We have a selection of baby Christmas bibs that are practical, stylish and the perfect way to celebrate Chrissie and the festive season.
Our Xmas bibs are the perfect accessory and suitable for any outfit even after Christmas has passed. They are handmade in Australia from soft and absorbent materials designed to keep your baby dry and comfortable.
Prints
We have three prints to choose from. These are;
Christmas Theme — This Xmas-themed print is perfect for any little Aussie baby. It is simple yet stylish and on-trend. It contains various Australian animals including Kangaroos, Koalas, Wombats, Echidnas, and Platypus all with a Christmas hat.
Red — No colour says Christmas like red. And with this bib, you can use it all year round.
Sage — This is another colour that is perfect for Christmas. This unisex bib is simple, and bold and will go with any of your baby's outfits.
Styles
There are a number of different styles of Chrissy bibs that we offer. These are;
Christmas Baby Bib
This is the perfect bib for newborns as the fastening system is on the side of the neck rather than the back. The absorbent backing is a bamboo cotton mix which is ideal for a new baby's delicate skin.
Christmas Bandana Bib
The Christmas dribble bibs we offer are stylish and practical and can be used well after Xmas is over. They are made with pleats to capture excess dribble and are the perfect bib for teething babies or heavy droolers.
To learn more about our dribble bibs view our product video below;
Christmas Toddler Bib
The larger toddler bib is our largest style and is best for bigger babies or messy eaters. The large front will help cover their cute Christmas outfits while they enjoy their Christmas lunch.
Benefits of our Christmas Bib
There are many reasons to use a My Little Love Heart Christmas Bib. These include;
All our bibs are made with 2 layers of materials. This enables any drool to be captured between the layers and not seep through to the baby's skin.
They are made in Australia using eco-friendly and absorbent materials.
Our range is suitable for a large age range. The adjustable fasteners mean you can increase the neck size as the baby gets older.
Each bib is handmade and we check the quality of each item while we are cutting, making and packaging them.
The Christmas design is stylish and on-trend. While the solid sage and red bib can be used all year round.
Materials
All our bibs are made with 100% cotton on the front while the backing is an organic and bamboo mix. This makes them eco-friendly, organic and sustainable.
We use a KAM Snap fastening on our bibs to make it difficult for the baby to pull off. As we use two snaps per bib this enables you to increase the size of the bib as the baby grows. To learn more, read our article on bib materials.
Care Instructions
It is important to look after your bib. To get the best results gently machine wash at 40 C with similar colours. It can then be placed in a dryer and then ironed using a cool iron on the reverse side only. Please do not bleach, soak or dry clean. To learn more read our article on cleaning bibs.
Safety
There are no Australian Standards that cover bibs, so be careful to choose one that is high standard. You should never leave your baby unsupervised when they are wearing our items. Bibs are classified as head or neck attire and could be harmful if worn incorrectly. We have an in-depth article on bib safety for more information.
Delivery and Collection Options
We offer a variety of different delivery options. This includes express and normal parcel delivery throughout Australia and Worldwide. We also offer collections from our East Perth baby shop. To learn more read our shipping policy.
Other Chrismas Baby Products
In addition to these beautiful Xmas bibs, we have other products that would be perfect to celebrate your baby's first Christmas.
We have a selection of Christmas baby gifts that include a variety of products. And for the little girls, we have a range of Xmas baby hair accessories. And if you are still undecided we have more Christmas ideas for newborns to browse.
Christmas is such a beautiful time, and as new parents, uncles, aunts, grandparents or friends having a baby around makes Christmas much more special. If you have any questions or would like further information please contact us.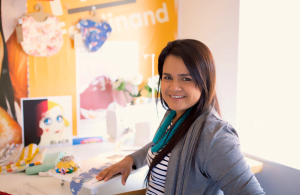 This article was written by Luisa Figueroa. She is the owner, maker and designer of the My Little Love Heart range of bibs and accessories.