There are many things to consider following the confirmation that you are pregnant. Which hospital to attend, who will be your obstetrician, which pram to choose and where baby sleeps are a few. The last thing on your mind is which newborn bibs to buy and if you need them at all.
Here, we will help you to decide what are the options and answer some of the most common questions.
What are the Best Newborn Bibs?
Age and activity will determine which is the best bib for your baby. But, in general, when selecting a bib we recommend the bib be;
Super absorbent with a cotton or bamboo backing

Pleated to capture excess drool

Made with

eco-friendly

and sustainable material
Do newborns need bibs?
Yes, newborns tend to wear them as babies spit up during breastfeeding and feeding in general. This will also save you from washing the baby's clothes after every feed. We recommend choosing a bib with fasteners on the side. They are easier to affix and remove for newborns as their neck muscles haven't developed yet.
How long will you need bibs for?
You may also be curious about how long they will be using bibs. Like everything with babies, this will depend on many things. Including if they have reflux, are teething, or a messy eater. We find that most babies use them from newborn to two years but every baby is different.
How many bibs do I need for a baby?
This will depend on whether they have started teething or are they a heavy drooler? Some parents will be able to survive with a few while others will need a large amount. Our suggestion is to buy a few. If they are a heavy drooler, suffer reflux, or is a messy eater you can always buy more.
So which baby bibs should I choose?
You will be astonished by how many different types of bibs are available. From smock, feeding, small, large, bandana, binky and, vintage, there is a bib for every style and occasion. We have outlined the most common ones below;
STYLES
With so many types of bibs to choose from it's difficult to know what bib to buy. It will depend on the activity and the individual baby but we have outlined the various types below;
Vintage Bibs
Our newborn baby bibs are designed for babies between 0 to 6 months old. Made with a fabric front with an absorbent and soft terry backing. They also come complete with two fasteners which are on the side of the neck. This design enables you to put on and take off the newborn bibs with ease. We find that these are the best bibs for newborns. They are stylish, absorbent and the perfect size for a newborn baby.
Large Bibs
The larger bibs can also be used for feeding as they cover more of the baby's clothing. A large bib will also assist when your baby starts teething. It will protect their clothing from a large amount of drool they produce. These are generally made from fabric.
Bandana Style Dribble Bibs
Used during teething. The bandana style dribble bibs are the best bibs for drooling and are one of the most popular types of bibs. Made from fabric they have pleats that capture the drool and stop it from seeping through to the baby's skin. These are the most stylish and used bibs. Higher quality types have cotton bamboo backing. This material is ultra-absorbent and is softer on their skin. 
Smock Bibs
Every house should have one of these. The smock is easy to clean, long sleeve, and made with a thin plastic bib that's used during feeding. It has many uses including feeding, painting, arts and crafts and even playing in the dirt.
Feeding Bibs
Any bib can
be used
for the feeding process and you should choose the style based on the baby's age. For newborns, they can use a cloth bib. As they get older and start to try and feed themselves a large surface that is easy to clean would be ideal.
The main type is the rubber design that has a catchment trough at the bottom. This is easy to clean and great for catching food during feeding.
Vintage Bibs
These have recently become fashionable and are generally only used on special occasions. They are a standard style bib complete with baubles and lacing. Making it appear to be of vintage appearance.
MATERIALS
There are a variety of materials to choose from including rubber, plastic, and fabric. The fabric cotton bibs for babies
are
made with cotton
or organic cotton. Its chosen for many reasons including durability, comfort, and moisture control.
The backing is one of the most important parts of the bib as this can sit against the baby's skin.
Higher quality bibs have towelling or a cotton bamboo backing. This is soft to the touch and won't irritate the baby's skin. Bamboo is also very absorbent. It ensures that minimal drool leaks through to the baby's clothes and skin.
Another positive to using bamboo for the backing is its organic properties. It is
environmentally
friendly as it grows at such a fast rate and is a renewable material.
Bamboo is the fastest growing woody plant and generates up to
35% more oxygen than equivalent stands of trees
.
FASTENERS
The most common fasteners are the plastic
KAM snap style fasteners
. This is easy to open and close and a practical fastener. The design ensures babies can't undo the fastener themselves. This type is also made in metal but is not as common.
Depending on the manufacturer they will add one or two fasteners. The benefit of having
multiple
fasteners is that they are adjustable.
Another type of fastening device is the drawstring. Once again not very common yet they are popular on vintage-style baby bibs.
Conclusion
We hope that this has been useful for you to determine which will be suitable for you and your baby. Please make sure that any babies wearing baby bibs or neck attire be supervised the whole time.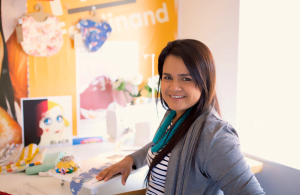 This article was written by Luisa Figueroa. I am the owner, designer, and maker of the My Little Love Heart range of bibs and baby products. I am a mum to a beautiful daughter Natalia. I've been in the fashion industry for over 15 years, specialising in baby accessories for the last 5. My love of fashion has enabled me to work and study around the world.