If you are making your own or buying them. This article will help you choose what size a burping cloth should be. By now you would have decided what materials to use. So let's move on to dimensions, sizing and shapes.
Sizes
The size you choose will depend on how much coverage you want. Here we touch on the various sizes;
Most popular
The most popular spit-up pad is approximately 45cm (17.7 inches) long by 22.5cm (8.85 inches) wide at its widest part. Which is the size of ours.
Measurements of Ours
The dimensions of ours are ;
Length- From end to end: 45cm (17.7 in)
Width – Widest part 22.5cm (8.85 in)
Width – Skinniest part: 17cm (6.69 in)
Smaller Size
It will be hard to find a small spit-up cloth. As their main purpose is to provide coverage for your clothes. If you are after something smaller, try alternative products like washcloths.
Larger Size
You will be able to find some with larger measurements. Foolfish make one that measured 50cm (20 inches) x 25.4 cm (10 inches). But they seemed to be more of a muslin wrap rather than a burping pad. Ours are very close to this. Being only 5.8 cm (2.3 inches) shorter and 2.9cm (1.15 inches) thinner.
If you are having trouble converting cm's to inches, here is a handy calculator.
Shapes
Burping pads come in a variety of different shapes. These include;
Hourglass – By far the most popular. The hourglass shape is what we make. It sits over the shoulder. While giving lots of coverage to the front and back of your clothes.
Square – You can choose a large square one but they look ugly. And they would have to be a decent size for you to get enough coverage.
Rectangle – Like the square shape. These don't look very nice. It's as if you have gotten a towel and used that. Which isn't a problem. In fact, we have many suggestions on what you can use as a spit-up cloth instead.
Half rectangle and half hourglass – The second most common shape. This provides more coverage than all the others. You put the hourglass shape up against your neck. While the flat rectangle side covers you across the shoulder, front and back.
We hope this has been helpful to select the size you are after. If you would like to know more about burping pads we have a large selection of resources here. And please reach out if you have any questions or comments.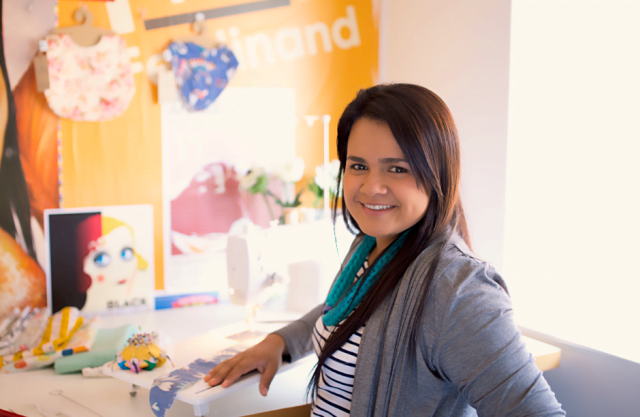 This article was written by Luisa Figueroa. She is the designer and maker of the My Little Love Heart range of spit-up rags.