If you are looking to have a baby gift hamper sent to Kalgoorlie, Esperance, or anywhere in the Goldfields region we have you covered. We are a Perth-based specialist in baby hampers that deliver worldwide.
The Goldfield region is made up of the Coolgardie, Dundas, Esperance, Laverton, Leonora, Menzies, and Ngaanyatjarraku shires. While the city of Kalgoorlie-Boulder also falls into the Goldfields region.
Ideas for Esperance and Kalgoorlie Baby Gifts
The Goldfields region is known for a variety of different attractions. These include Australian flora and fauna, gold mining and mining in general, farming, the outback, agriculture and wildflowers. And we have a selection of baby hampers that fit with these themes.
These include;
Kangaroos Gift Sets – One of the most iconic photos of Australia is the kangaroo on the beach in Esperance. To recognise this we have a variety of Kangaroo themed baby gifts that are stylish and gender-neutral.
Farming – The Goldfields region is also known for its farming, here a variety of crops are produced including wheat and barley. And this is why our Farm baby hamper would be the perfect present. We also have a variety of farm-themed baby products that would be an ideal gift for a new baby.
Koala – Koalas are found in the southern part of this region and we have a range of Koala themed baby gift boxes to recognise this.
Floral – In spring the flowers bloom throughout the goldfields region. Many tourists and locals alike tour the area looking at the various wildflowers in bloom. And if you are one of these people you can't go past one of our Australiana floral baby gift hampers. We have a range of floral baby gift boxes in floral gumnuts, botanicals, blossoms and wattle prints. These will make for a perfect baby hamper for the locals of Esperance and the Goldfields area.
Outback – If you are a big fan of the Kalgoorlie Superpit or mining in general, you may want to add this truck themed baby chino cup. This would be the perfect add-on to any baby gift you buy. We also have a selection of Australiana themed hampers that are perfect for sending overseas.
Baby Hamper Occasions
There are many occasions to celebrate by giving a baby gift for someone living in Esperance, Kalgoorlie, or the Goldfields region in general. These include celebrating the pregnancy of a friend, attending a baby shower, giving a maternity leave gift or welcoming a newborn baby. Whatever the occasion we have a baby present to suit.
Delivery Options to Kalgoorlie, Esperance and throughout the Goldfields
We create all our baby hampers in our Perth-based gift store and we offer a variety of different delivery options for gifts being sent throughout the Goldfields area. Just place your order online and we can send it via normal post with orders over $80 receiving free shipping. If your gift hamper is required for a specific time we recommend choosing the express delivery option. We will prioritise the making of the hamper and send it via express post. And if you are a friend is heading to Perth you can select the collection option. This way you can visit our store and collect your baby hamper while browsing our other gift sets.
If you have any questions relating to any of our baby gifts please contact us.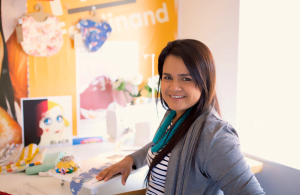 This article was written by Luisa Figueroa. She is the maker, designer and owner of the My Little Love Heart range of baby gifts and accessories.