We have a large selection of Australian themed baby gifts that are perfect for a baby shower or newborn baby. These sets are ideal to give to someone locally or to send overseas.
Australian Themed Baby Gift to Send Overseas
You may reside here in Australia but would like to send baby gifts overseas. We can help you out by packing and sending these anywhere in the world. Everything from writing in the card to tracking the parcel to delivery. So all you have to do is sit at home and take the credit. We love the thought that people are buying our handmade gifts to send overseas so they can see the quality of our products and share them throughout the world.
Guests From Overseas
If you have a steady stream of visitors coming in from overseas to visit you, one of these Australian-made gifts is perfect for them to take home. Most of the time our overseas guests have babies or know someone that does. Making these Australian Themed Gifts perfect as Australian souvenour. Come and visit our shop to see our full range.
Prints on Offer
We have a variety of designs on offer including flowers and animals. These are;
Animal Prints
We have two Australian-themed animal prints. These are;
Koala – This print has a light grey backing with a white koala holding onto a brown Eucalyptus tree branch. The green leaves stand out and give this Australiana design some colour. The Koala is hanging onto the branch in different poses.
Kangaroo – This design has brown kangaroos bouncing around, while some a carrying a Joey. There are Eucalyptus leaves on this print with some in flower. The small gumnuts also stand out against the cream and white checkered background.
Australiana Flora
We have a selection of Australian flora baby gifts to choose from. These include;
Snugglepot – May Gibbs won her first Art prize at the Perth Wild Flower Show. And this gorgeous print is inspired by her books. The Snugglepot print had a beautiful pink background complete with white flowers and gumnut babies. This is the perfect Australiana themed gift for a baby girl.
Floral Gumnuts – This is another beautiful girl's baby gift with an Australian theme. It has a light blue background with brown gumnuts. Some of which have beautiful pink flowers.
Botanical – This print has a light pink background with white dots in it. Overlaying this is green and bright pink botanical flowers.
Golden Wattle – This is one of our latest prints. Golden Wattle (Acacia Pycnantha) is native to south-eastern Australia. This design is a creamy white background with light olive colour leaves and bright yellow round wattle flowers.
Online, In-Store, Worldwide Delivery
You can buy any of these sets from our baby hamper shop in East Perth. Alternatively, you can order the baby hampers online and we can deliver them anywhere in the world. They come beautifully gift-wrapped and with a card which we are happy to fill out for you. If you have any questions on any of our gift sets please contact us.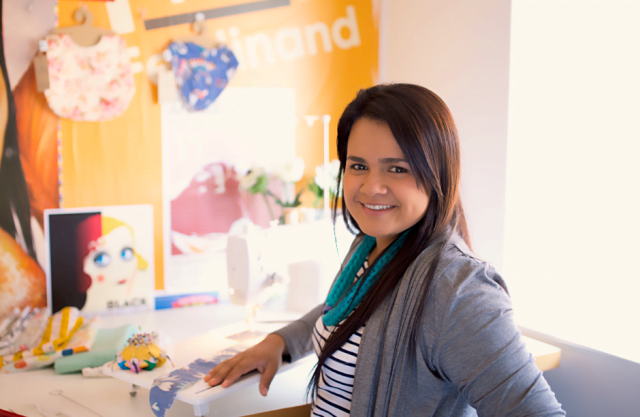 This article was written by Luisa Figueroa. I am the owner, designer, and maker of the My Little Love Heart range of baby gifts and accessories.