We are a Perth-based business that specialises in baby gifts and hampers for all occasions. They all come beautifully gift-wrapped, with a card that we can write in for you. Visit us in-store or order online for delivery.
We can organise the delivery of the gifts or come in and visit us at 17 Wickham Street, East Perth. Or call us on 0405 816 441.
Opening Hours:
Tuesday, Wednesday, Thursday, Friday – 10 am – 2 pm
Saturday 9 am – 3.30 pm

Sunday 11 am

– 2 pm
I have now purchased 3 baby hampers from Luisa at My Little Love Heart, and each gift recipient has been absolutely delighted. Beautifully made, of the highest quality, unique gifts. Eco-friendly packaging. Absolutely first-rate, personalised service from Luisa each time. I cannot recommend My Little Love Heart highly enough, and I will definitely be back.

Lorain, Perth, March 2021
Below is a sample of the presents we offer however to see our full range shop online or visit us in-store.
I have now purchased 3 baby hampers from Luisa at My Little Love Heart, and each gift recipient has been absolutely delighted. Beautifully made, of the highest quality, unique gifts. Eco-friendly packaging. Absolutely first-rate, personalised service from Luisa each time. I cannot recommend My Little Love Heart highly enough, and I will definitely be back.Lorain, Perth, March 2021
Our Baby Gift Shop in East Perth
Our East Perth shop is easily accessible off Plain or Bennett Streets and is around the corner from Wellington Square Park. We offer a range of gift sets for gender reveals, baby showers, newborn, baby and mummy, and twin hampers. Our shop is located on the East end of Wickham Street near the East Perth Cemetry. And if you are looking for things to do in East Perth read our guide.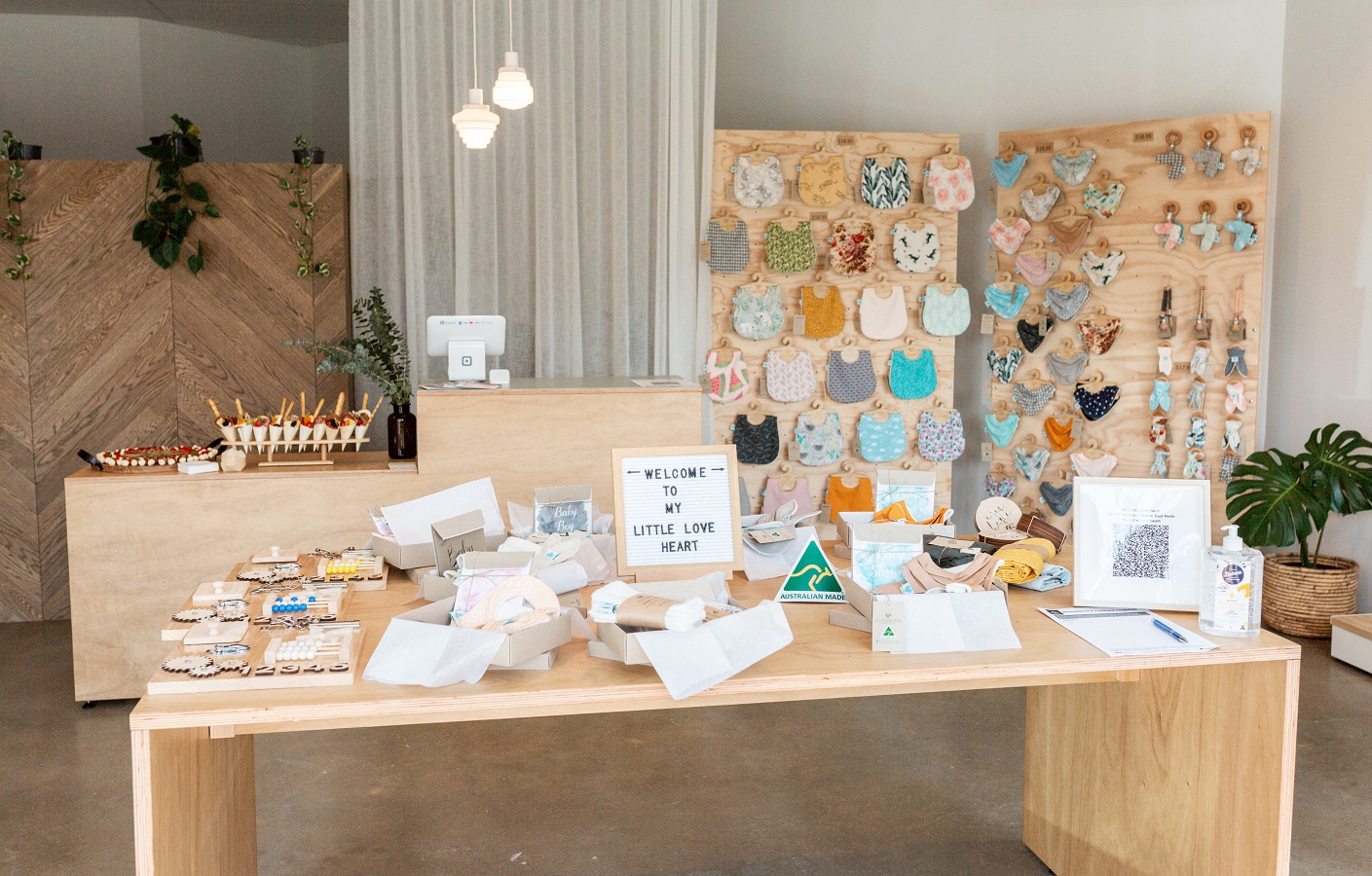 There are lots to do around East Perth. So after collecting your gift stroll around Claisbrook Cove or grab a coffee on Royal Street. It's close to Optus Stadium so you can slip in to grab a gift before the game or event.
Types of Baby Gift Hampers
We offer a selection of gifts for all occasions. Below are the main sets, however, we are happy to custom-make one, especially for you.
New Baby Hampers
The new baby hamper is our smallest set and is perfect for a new baby. It contains a bandana drool bib and a bunny teether. All beautiful gifted wrapped and complete with a card. Ready to write your best wishes and celebrate with the new parents.
Gender Reveal Presents
When buying for a gender reveal party make sure the gift you are purchasing is gender-neutral. We have a range of earthy colours and gender-neutral gifts which are perfect for the occasion. Most of these are made in our East Perth studio. If you are looking for more ideas we have an article on gender reveal gifts that will help.
Baby Shower Gift Basket
We are a baby shower gift store that specialised in gifts for baby showers. We offer a large selection that is full of practical and stylish items, many of which are handmade in Perth. Each set comes beautifully gift-wrapped with a baby shower card. So all you have to do is write your best wishes and enjoy the party.
Baby Boy Basket
The baby boy gift hamper includes a teether, burp cloth, bandana and baby bib. Available in a selection of prints suitable for boys. These also come gift-wrapped and with a choice of a boy or baby shower card.
Baby Girl Presents
The girls baby set contains the same items as the boys plus a toddler headband. They are available in a selection of prints and solid colours. It's beautifully gift-wrapped and comes complete with a baby shower or girl card.
Unisex Baby Gifts
Our unisex gift sets are perfect for those parents that are having a surprise baby! They are also a great gender reveal present. Available in solid gender-neutral colours and unisex prints. These sets are ideal for parents who are keeping the gender of their baby a secret.
Luxury Baby Hamper Set
This deluxe gift hamper is the cream of the crop and is ideal for a corporate baby gift. It contains a variety of high-quality products that new parents will love. This includes our teether, card, bandana bib, baby bib and burping cloth. It also includes a record book, a pacifier, and a dummy chain.
Twins Baby Gift Sets
Double the cuteness with these twins' baby gifts sets. These have been designed so both newborn twins can look stylish and fashionable. These come with two bibs, 2 teethers, and a "Baby Twins" card all beautifully gift-wrapped.
Baby and Mum Hampers
Why should just the babies get the presents? With the mum and bub gift set, there is something for both. A relaxing candle and reusable nursing pads for mum and some stylish accessories for baby. All beautifully gift-wrapped and with a card, this gift set has the best of both worlds. They also make for a great maternity present.
My Little Love Heart has some of the most beautiful gifts and accessories for mums to be! Luisa is beautiful to communicate with and makes collection an option too! A gorgeous little business that I have no hesitation in recommending and supporting.

Michelle, Perth, February 2021
Baby Hamper Delivery and Payment Options
If ordering your baby gift box online we offer delivery throughout Perth, Australia and overseas. All Australian orders over $80 receive free delivery. If your gift is time-critical we have an express shipping option. Our preference is to send gifts to a residential or business address. Sending hampers to the hospital adds to the number of things the recipient has to carry home. Plus they may have left the hospital already. For further information please read our shipping policy.
Our payment options include Paypal, credit card and Afterpay.
Packaging and Cards
We pride ourselves on the presentation of our gift sets. The packaging is made from a recycled slimline A5 brown kraft gift box. It comes in two sections, a base and a lid that's made from 285gsm paperboard. We tie the present with an aqua ribbon for a beautiful presentation.
With each set, you have a selection of three baby cards to choose from. These are 135 x 135 mm on 330 gsm linen paper and have all been printed in Perth.
The products created and put together by My Little Love Heart are so beautiful! I know they're going to make my friend light up when she receives her special baby package. Luisa kept in touch with me throughout my order. I would recommend this company to anyone looking for quality gifts with that little bit extra special.

Brooke, NSW, August 2021
Message For card
All our gifts sets come with a card. We are happy to write a message on the card for you. When checking out, add the message in the notes section and we will do the rest.
Eco-friendly and Organic
We try to minimise waste and reuse materials where possible. It's our passion to source eco-friendly materials. From the cotton used on the front to the bamboo backing, we are always thinking of the environment. Even our tags and packaging are eco-friendly as they are made from recycled cardboard. And that's why our organic baby hampers are so popular.
Locally Made – Australian Made
We pride ourselves on producing high-quality Australian Made gifts. All our hampers are handmade locally by me in Perth. Our customers regularly comment on the pleasure of being able to buy local and Australian Made products. We are also a big supporter of other Australian businesses. Where possible we will support local businesses rather than buying overseas. And if you are in Perth drop in and see us. Just google baby gifts near me and we are bound to appear.
Testimonials
We go out of our way to provide quality customer service. We have included some of the feedback we have received in this article. For more reviews read our testimonials page, Google or Product Review websites.
Luisa was very helpful, her hand made products are truly made with love. I can't thank Luisa enough, my package got here so quickly and such simple but beautiful packaging which is great for the environment. I highly recommend My little love heart especially for gifts. Absolutely wonderful. Thank you Luisa.

Melissa July 2021
Refunds and Returns
We take consumer law seriously. Should you be unhappy with your purchases we will refund your payment on the return of the goods. Please see our returns policy for more information.
Thank you for reading about our gift hampers, if you have any questions please contact me.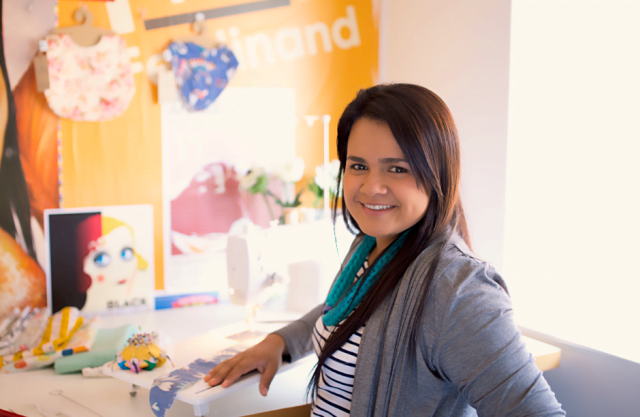 Luisa Figueroa – Designer Profile Owner, designer, and maker of the My Little Love Heart range of baby products. I have been working within the fashion industry for over 15 years and specialising in baby accessories for the last 5. My love of fashion has enabled me to work and study around the world.