Our girls baby shower gifts comprise a range of handmade and locally sourced products. They come in a range of sizes and styles to suit any budget.
What to Look for in a Girls Baby Shower Hamper
When choosing a baby shower present for a baby girl there are a few things to consider. These include;
Safe – Each item in the gift set needs to be safe. Make sure all the products have tags and are of high-quality workmanship. It's up to the manufacturer and shop to make sure the goods are safe but it's a good idea for you to check too.
Age Appropriate – The present you select should be age appropriate. With the hamper containing items that will be used within the first six months. It's pointless buying a gift that won't be used for a long period of time as it may get forgotten or thrown out. The main reason to buy baby shower gifts is to help the new parents with the expenses of the first few months.
Practical – When choosing a gift for a girls baby shower make sure it's practical. This way you know the parents-to-be will use the gift and it won't be wasted.
Made in Australia – Ideally, you will buy a present that has been made locally in Australia. Apart from the feel-good factor of knowing you are supporting local businesses, there are other flow-on effects of buying Australian Made. The quality is higher, customer service is easier and local companies are more likely to support other Australian small businesses.
Stylish – There's no point in giving a gift if it doesn't look good. Make sure you choose a hamper that is well-presented and comes with a card. You should also be able to write a message to the recipient. This is a service we offer free of charge.
Organic and Eco-Friendly – It's important to choose a gift that is made with organic and sustainable materials. And that the packaging isn't full of plastic. All of our girls gifts are at least made with 90% organic materials. And the packaging is made from recycled cardboard.
Gender Neutral or Girls Prints – The designs you choose should be unisex or for girls. We have a large selection of girls and gender-neutral gifts sets. Below is our current range of unisex and girls fabrics we use.
Girls and Unisex Prints
Butterflies – The butterflies print has a light green aqua colour background. And is covered in different sizes and colours of butterflies.
Floral Gumnuts – The floral gumnuts design has an aqua backing and bright pink flowers. These flowers combined with the contrast of the brown gumnuts make this print stand out. Floral Gumnuts is one of our Australiana themes, making for the perfect Australian Made baby present.
Blossoms – This is a simple yet elegant print. The beautiful pink blossoms stand out again the white background. Making it an ideal gift for a baby girl.
Wattle – This print makes for such a cute present for a girls baby shower. The wattle flowers stand out against the white background and bring beautiful colours to this design.
Snugglepot – Perfect for an Australiana themed baby hamper. The pink backing combined with the white gumnut babies makes for a unique and stylish present.
Peach – You may want to keep it simple and elegant. And the solid-coloured peach baby shower gift sets are just that!
Oatmeal – One of our gender-neutral colours. The oatmeal design is beautiful in its simplicity. As this is a unisex colour it is also great to buy for a gender reveal present.
Floral Dream – This print has a beautiful greenish-blue background with a variety of different coloured flowers on it. It's such a gorgeous print to suit a baby girl.
Daisy – The Daisy design has an olive green background with white petals and a yellow floral middle. The simple and beautiful design makes it the perfect girls baby shower gift.
Hearts – This hearts print is made up of black hearts that stand out against the white background. We love this print as it is simple and elegant and symbolises our brand.
Botanical – This is another one of our Australiana prints. It has a light pink background with beautiful bright pink flowers.
We are always updating our girls prints so please be sure to check back regularly.
Online and In-Store
All our baby shower presents for girls are available in our gift shop. Or you can order online and we can deliver anywhere in Australia or around the world.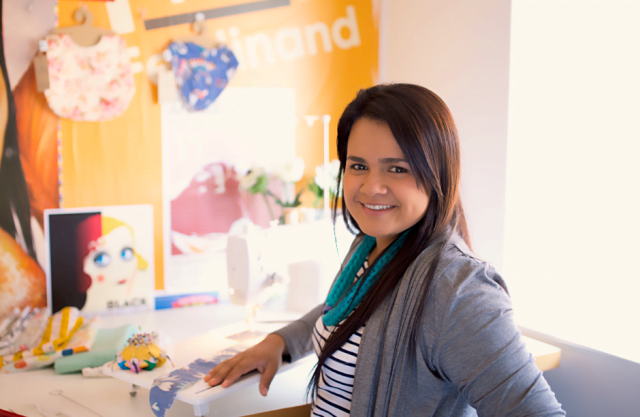 This article was written by Luisa Figueroa. She is the owner, maker and designer of the My Little Love Heart range of baby gifts and accessories.