When you are invited to a baby shower it is customary to bring a gift for the parents-to-be. The baby shower present that you give should be age-appropriate, practical and something the parents need. And you should buy something for the baby rather than the mum.
In most cases, you should choose an item from the registry. But if there isn't one you will need to select something yourself. Preferably from a specialises baby gift shop like ours.
Once you have brought the gift it's time to wrap it. And in this article, we discuss everything related to gift wrapping for baby showers and have added videos for inspiration.
Do you wrap the gift or not?
Once you have chosen the gift you have to decide if you are going to wrap it. You should always wrap a gift for the baby shower unless;
The gift is too large – You may have pooled your money and resources with friends and family to buy one of the larger presents. Like the crib, pram or bassinet. In this instance, you aren't expected to wrap the gift.
Unwrapped baby shower – More people are choosing to have an 'unwrapped baby shower'. This is a way to cut back on excess packaging and wrapping. If you have been invited to this type of baby shower this is a sign that the parents are environmentally friendly. And you should also consider buying an eco-friendly present. We will be talking about unwrapped baby showers in a later article.
Wrapping a candle
How to Wrap a baby shower gift
There are a variety of ways to wrap a gift for a baby shower. But how you do this will depend on the;
Size – The size of the gift will determine how you will wrap it and how many materials are needed. If your gift is small you have many options. But larger-sized gifts can be tricky or you may choose not to wrap them at all.
Shape – You may have brought an odd-shaped present like a non-alcoholic wine or candle. An odd shaped present can be hard to wrap so we have provided some video suggestions below.
Weight – If the gift is heavy the wrapping materials need to be strong enough to hold it.
When choosing the materials you should consider the above. Also, you should use recycled paper where possible and don't use plastics.
Wrapping a pregnancy journal or baby book
How do you wrap a large baby shower gift?
Wrapping large gifts for a baby shower can be a hard task. For instance, if you have a rocking chair, crib, pram or other large items it can be difficult. And also a waste of paper and wrapping materials. We suggest that you leave these in the original box or assemble the item. And then place a large bow on it. It is a simple way to present the gift without wasting resources.
How do you wrap a baby shower gift without wrapping paper?
Instead of using wrapping paper, you can use a number of different materials. These include ;
Swaddle – Using a swaddle to wrap the gift means there is no wrapping paper to throw in the bin and add to the landfill. Plus it means an extra gift for the baby.
Bow or cord – The present may be too large so your gift-wrapping options can be limited. Adding a bow or cord can add that extra touch without wasting large amounts of wrapping paper.
Scarf – This is a great baby shower present for the mum instead of the baby.
Alternatively, you could not use any wrapping paper at all. Use cord or a bow to make it a little cuter. If the baby shower is for a baby girl you could even use a baby headband as part of the decoration.
How do you wrap a baby shower gift in a blanket?
You should try to minimise the amount of wrapping. Or give the gift in a unique way. This can be done by putting the present in a blanket or baby swaddle. This way the wrapping can be part of the gift itself. Place the gift in the centre of the swaddle and bring all four corners into the middle. Pull tightly and tie around the top with a ribbon or cord.
Materials
The choice of materials you use will depend on many things including the weight, size and shape of the present as we mention above. So keep this in mind when you are choosing what to use. Some materials you can use are;
Tissue Paper — We use tissue paper in the majority of our wrapping. It is environmentally friendly, easy to use and looks stylish.
Box — The boxes we use in our gift wrapping are from recycled cardboard. They are a two-piece box that looks amazing.
Cake Container — For our Bub and Mum Sets we use a cake box. This has a see-through window on top so you can see the products which are being gifted.
Gift Bag — You can use a kraft paper gift bag for items like bottles of non-alcoholic wine or candles.
Bows — Adding a bow, especially a headband is a stylish way to present your gift. And the baby will be able to wear the bow once she is born.
Fabric – You can use a fabric or even a bay swaddle or hooded towel to wrap your gift. So there is no waste at all.
Cord and Ribbons — We love adding ribbons and cord to our packaging. It adds that extra bit of class!
Twine — Another way we wrap presents for baby showers is by using twine. We make a simple yet elegant bow on top that looks stylish.
Scissors — The only other items you need are a pair of scissors to cut the twine, cord or ribbon.
Wrapping a present for a baby shower
Etiquette for opening gifts
Once the gifts are given it's time for the mum-to-be to unwrap the presents. But is it done as the gifts are handed over? Or before everyone leaves? Perhaps they would like to unwrap them at the sanctuary of their own home. The choice is up to the parents to be. But in most cases, people like to open them at the end of the party before people go home. We have an in-depth article about the etiquette of opening baby shower gifts.
We hope this has been helpful when deciding how to wrap your presents for a baby shower. All our gifts come complete with gift wrapping which we do at our East Perth baby gift shop.
Wrapping Gifts
If you have any questions or comments on this article please contact us.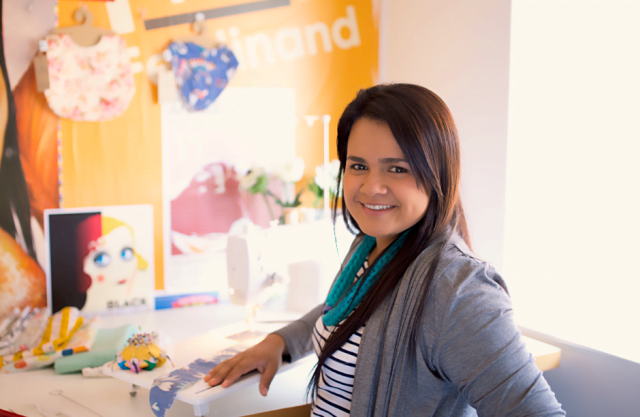 This article was written by Luisa Figueroa. She is the designer and maker of a selection of baby gifts for baby showers and newborns.