Our handmade baby gifts are handcrafted in our studio and are both stylish and practical.
If you are buying a present for a baby shower, gender reveal or newborn, handmade baby gifts are the best choice. These give the feeling of gifting a unique and thoughtful hamper. One where hard work and a sense of love have been added to every stitch.
Handmade Gift Sets
Our gift sets are available in different sizes and styles. They contain practical items such as bibs, teethers, swaddles, and nursing pads. All you have to do is to choose your preferred set and add a message. Each comes gift-wrapped and includes a card to write your best wishes. These are the perfect presents for girls and boys. We also have a beautiful selection of baby and mum gift sets. These contain lots of our handmade items as well as a non-alcoholic drink.
Why you should buy handmade baby gifts
Customization: Handmade products are guaranteed to make the present more personal and meaningful. Making it a precious souvenir to hold on to forever and a wonderful keepsake.
Dedication: The attention to small details, time, and passion from the maker is always appreciated. Homemade products made with love deliver a sense of warmth.
Appreciation: Handmade gifts aren't easy to find. Meaning the recipient would have known you've gone out of your way to find a special gift just for them.
Quality: The quality of handmade products is guaranteed. As the maker will check each item is made to a high standard.
Uniqueness: The uniqueness of homemade baby shower gifts is opposite to mass-produced products. Every single item is unique as no two stitches will be the same. Unlike a production line where everything is identical.
Supporting a dream: When you buy a handmade item, you support someone's dream. To help them develop their craft and make a living out of something they love to do.
Support a local business: Supporting local businesses can be your way to help the local economy. Buying from a local vendor will keep the money inside Australia and the local community.
What's the disadvantage of buying handmade products?
Handmade products have many advantages that make the perfect present. The only setback you may have is the price as they may be a little more expensive. This is because a person has made the item and it hasn't been mass-produced. And more time and effort, and dedication have been spent on each item.
Where can I buy handmade baby gifts and accessories?
We offer a selection of handmade baby gifts for sale at My Little Love Heart. This includes not only our gift sets but a range of other products and accessories. They are made in Australia with eco-friendly and sustainable materials with stylish designs.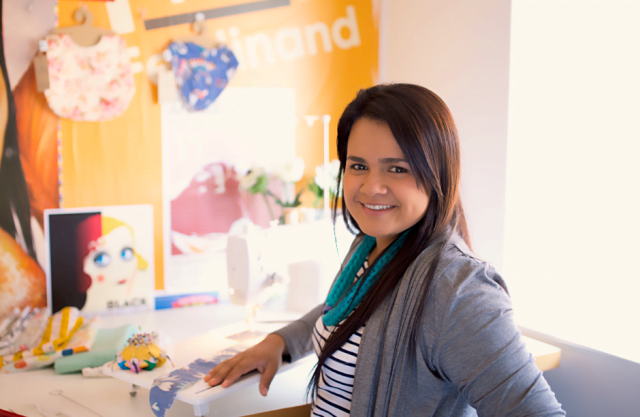 This article was written by Luisa Figueroa. She is the owner and maker of the My Little Love Heart range of baby accessories and gifts.