We handmake cotton nursery bunting in our Perth baby store.
What are our Nursery Bunting is made from
Our bunting is handmade in our Perth shop. It's made from cotton and each bunting is made up of 6 triangles. The total length is 1.5 mtrs long. As it's made from cotton it is environmentally friendly and we don't use any chemicals or toxins in the making process.
Designs and Colours
We have a variety of different configurations to suit gender-neutral, girls, and boy's nurseries. We can even custom-make one for you if you would like to have your own colours and prints.
Other uses
As this is a sturdy and washable design it can be used for more than just bunting for your nursery. You could use it for a gender reveal party, baby shower or 1st birthday party. It is versatile and stylish and looks a lot more classy than the plastic bunting you can buy.
Our location in Perth
You can order this bunting online for collection or delivery. Or you can shop in-store in our East Perth store. We can be located at 17 Wickham Street in East Perth close to the East Perth cemetery.
Hours
Our shop is open from 10am to 2pm Tuesday to Friday. While on Saturday it's open from 9am to 3.30pm and on Sunday from 11am to 2pm.
We hope this article on nursery bunting in Perth has been useful. If you have any questions please contact us or visit us in store where you can see it being made.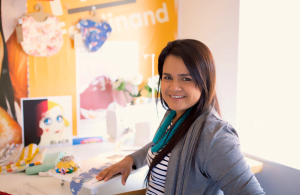 This article was written by Luisa Figueroa. She is the maker and designer of the My Little Love Heart range of nursery and party bunting.