We stock a selection of wooden toys in our East Perth store.
Wooden Toys Available
We have a selection of toys made from wood in our East Perth store.
Food and Cutting Board – This stylish and fun fruit and vegetable set is where you can cut your wooden food in half. 
Sorting Box – This sorting box is great for improving your little ones' motor skills. Here they sort different shapes and sizes into a box.
Toy Car – We offer the wooden toy car in two different colours, natural and white. This is very chunky so easy for babies to hold onto.
Brands we Stock
The two main brands of wooden toys we stock are Micki and Discoveroo.
Discoveroo – This is an Australian brand that makes a fruit and vegetable cutting set. They also make chunky wooden toy cars. 
Micki – Micki is a Swedish brand that has been making wooden toys for decades. And the mini-sorting box is a fun way for them to develop their motor skills and critical thinking.
Online, Delivery, Collect, In-Store in Perth
We offer a variety of ways to buy wooden toys in Perth. These include ordering online for delivery or collection. Or you can visit us in-store.
Where you can find us
We are located near Wellington Square playground in East Perth at 17 Wickham Street. We are open 6 days a week from Tuesday to Friday at 10am to 2pm and from 9am to 3.30pm on Saturday. While on Sunday we are open from 11am to 2pm.
We hope you have found our article on wooden baby toys in Perth helpful. If you have any questions please feel free to contact us or visit us in-store.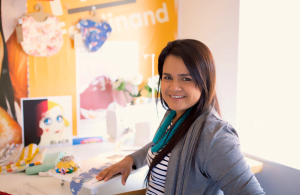 This article was written by Luisa Figueroa. She is the owner of the My Little Love Heart range of baby accessories.