We handmake premium quality, wholesale bibs in Australia. Ideal for boutique baby shops or to add to baby gift hampers.
Contact us for wholesale pricing at [email protected]
We offer a range of stylish and handmade bibs for wholesale in Australia and export around the world. These are available in a range of unisex, boy's prints, girl's designs and plain colours.
There are four styles of bibs we offer wholesale. These are the smaller newborn style that is ideal for newborns. The bandana style bib that's great for a dribbling baby. And a larger bib that has a big front for messy eaters. And finally a stylish special occasions boho bib.
Wholesale Baby Bibs Lead Times
As each of these is handmade, it does take time to make wholesale orders. Please note that the lead time is 2 weeks from the date of order. But we do try and ship it quicker and as soon as it's made.
Eco-Friendly Materials
The materials we use are eco-friendly and sustainable. These include the cotton print on the front and the bamboo cotton material on the back.
Delivery Costs
Our wholesale delivery price is $14.95 to anywhere in Australia. Please select the wholesale option at checkout. For international shipping costs please contact us.
Minimum Order
We don't require a minimum order for wholesale. Making it a good option for gift baskets and hampers.
Easy to Order Online
If you would like to place an order. We can provide you with a login. Here you can access all our products like wholesale baby headbands, burp cloths, teethers and hair accessories. Once you have decided on the wholesale baby products you like you can place an order.
If you have any questions about our bibs for wholesale or would like an online login please contact us.
This article was updated with the latest information, and an author bio was added in June 2023.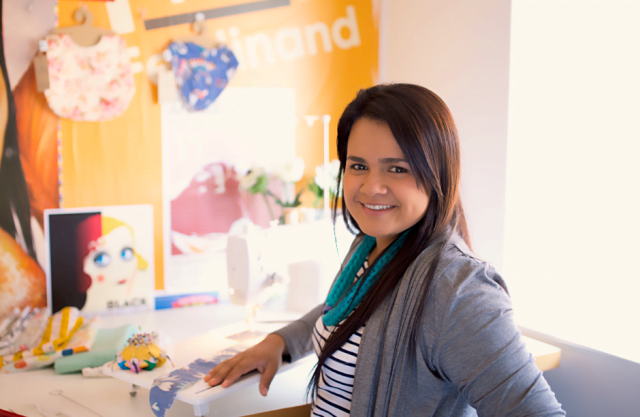 This article was written by Luisa Figueroa – Owner, designer, and maker of the My Little Love Heart range of bibs. I have been working within the fashion industry for over 15 years and specialising in baby accessories for the last 5. My love of fashion has enabled me to work and study around the world.