Christmas is such a special time of year to spend time with family and friends. However, it's extra special if you have a new baby to celebrate with. It's also a great opportunity to dress them up in a Christmas themed Christmas Headband.
Our baby Christmas hair accessories are available in both red and sage colours. We have a selection of styles to choose from which include the newborn bow, baby headband, girls headband and top knot. After choosing your hair bows explore our complete Christmas Collection.
Christmas Baby Hair Accessories
With four different styles and sizes to choose from, and two different colours, there is a Christmas hair accessory to suit your baby on the special day. We have purposely not embroidered or marked any of the items "Merry Christmas". This is so you can use these hair accessories all year round.
Christmas Newborn Headband
The smallest of the hair accessories is the newborn bow. It is a small bow hand stitched onto the nude colour elastic.
Baby Christmas Headband
The most popular of our hair accessories, dress your baby girl up in one of our baby Christmas headbands this festive season, and all year long. Both the sage and red are perfect for Christmas while the elastic is super soft for your babies skin.
Girls Christmas Headband
The larger girls headbands are ideal for toddlers, or slightly older girls. The bow is larger than the other to and they are also handmade in Australia.
Christmas Top Knots
Perfect for matching with your baby, these come in a baby, toddler and adult size. The Christmas top knots can also be worn all year round as sage and red never go out of fashion.
Note, we purposely haven't embroidered any of these items so your baby can wear them throughout the whole year.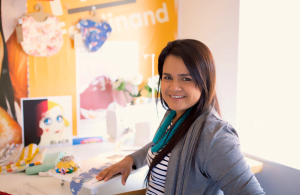 Luisa Figueroa – Owner, designer, and maker of the My Little Love Heart range of baby products. I am a mum of one daughter and have been working within the fashion industry for over 15 years and specialising in baby accessories for the last 5. My love of fashion has enabled me to work and study around the world.