We stock the Koala baby rattle in our East Perth store along with a range of other gorgeous products for babies.
Characteristics of the Koala Rattle
This versatile rattle can be used as a teether and bath toy. They are;
Biodegradable and non-toxic
Handmade from 100% natural rubber and hand-painted with food-grade pigment
Designed for easy grip and to help with sensory development
Big ears to chew
No hole so water can't get trapped and cause mould
Certified to Australian Standards AS/NZ ISO 8124
To learn more read the rattle product page.
How does it Sound?
This video will give you an indication of the sound produced by the rattle when shaking it.
Texture, Look and Feel
This is formed by 100% Natural rubber in a Koala shape, with one hand holding onto the Eucalyptus branch while the other is ready to give you a high-five. The ears are large for easy chewing while the branch has a texture of leaves and small nuts.
Included in Gift Sets
This rattle is such a great product for gifting. We have included it in many of our Australian-themed gift sets including the Luxury Australiana Koala set, the newborn kangaroo gift, and the bath baby hamper.
Care and Maintenance
Keep out of direct sunlight and away from heat. Do not boil, microwave, put in dishwasher or freezer. To clean, wipe with soapy water and a damp cloth. Leave out to dry away from sunlight and always wash before use.
Safety
Please remove tags and packaging before giving them to the baby. This must always be used under adult supervision.
Delivery, online or buy in-store in East Perth
We offer several different ways to buy this rattle. This can be purchased in person at our East Perth store. This can be ordered online and collected or delivered anywhere in Australia or worldwide.
Thank you for reading our article on the koala rattle we stock in our East Perth shop. If you have any questions please get in touch with us or visit us in-store.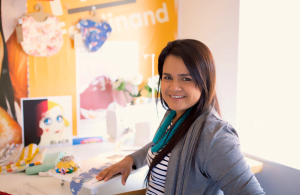 Luisa Figueroa wrote this article. She is the maker and designer of the My Little Love Heart range of baby accessories. Winnie Parkes has produced this rattle.