We have a selection of pregnancy and baby journals stocked in our Perth store.
These are the perfect keepsakes to record the most important moments of your life and are ideal to look back on with fond memories.
Diaries and Journals we stock
We stock a number of different journals and diaries in our East Perth store to record details on your pregnancy and baby.
Pregnancy
We offer three pregnancy journals which are the "Bump" the "9 Months" and the "IVF" diaries.
Bump – This is an oatmeal-covered colour linen diary that is perfect for fitting in your bag. It has ample room to include your appointments, track your progress and add photos. 
9 Month – The 9-month journal has the same internal pages as the bump book and is made in a gender-neutral orange colour.
IVF – If you are going through IVF treatment this is perfect for recording everything you need to know while keeping track of your appointments and other crucial information.
All these journals are stylish and practical and are the perfect item to buy for yourself or give as a pregnancy present.
Baby
Once the baby is born you can use these journals to record the most important part of yours and the baby's life. The diaries we stock in our East Perth store are;
Linen Baby Journal – The First Year – This is a beautiful journal that comes in a hardcover and linen box. This is perfect for recording the first 12 months of the baby's life. You can include all their firsts including their first words, steps and losing their first tooth.
Baby Book – The First Five Years – In our East Perth shop we stock the blue, pink and grey versions of this. In this diary, you can record all of their accomplishments and highlights of their first five years.
Christmas Journal – Celebrating a baby's first Christmas is an exciting time for the whole family. You can write every moment of their first Christmas. This is a blank canvas journal so is up to you how you fill the pages, but there is plenty of room for photos and pictures alike.
Where in East Perth can you find us
Our shop is located at 17 Wickham Street in East Perth. Situated on a quiet street there is plenty of on-street parking. It is around the corner from Wellington Square playground so after visiting the shop enjoy some time at the park. We are open from Tuesday to Friday from 10am to 2pm. While on the weekend on Saturday from 9am to 3.30pm and on Sunday from 11am to 2pm.
We hope you have found this article on the journals and diaries we stock in Perth helpful. If you have any questions please feel free to contact us.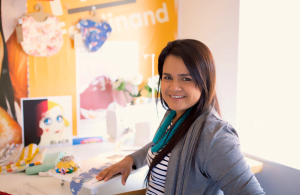 This article was written by Luisa Figueroa. She is the maker, designer and owner of My Little Love Heart baby accessories brand.