Baby showers are a fantastic event. Perfect for catching up with friends and celebrating a pregnancy with loved ones.
But, if you are tasked with organising, or holding one yourself, it can be daunting. So we have compiled this ultimate guide to help you plan and throw the perfect baby shower.
In this article we will touch on, and offer suggestions on these topics;
Guest Lists
Budget
Venue
Baby shower registry
Themes
Food and catering
Decorations
Furniture and Utensils
Gifts and Present Opening
Games
What to wear
Baby Shower Alternatives
Before we get started, you may have some general questions on baby showers, so let's get them out of the way first.
What is a baby shower?
A baby shower is a party where family and friends gather to celebrate an upcoming birth.
What happens at a baby shower?
At a baby shower, people celebrate the pregnancy and celebrate the soon to be the arrival of the baby. The venue is decorated, drinks and food is served and games are played. Gifts are given to help ease the expense of raising a baby.
Who is supposed to organise a baby shower?
A baby shower is normally held by a close friend or family member. The parents shouldn't organise the baby shower themselves. Otherwise, it appears to be a gift-grabbing exercise.
When should you have a baby shower?
The ideal time to hold a baby shower is between 26 and 34 weeks. This is because the pregnancy is far enough along, yet not too early. It also gives you ample time to buy any baby essentials you didn't receive as gifts.
How long does a baby shower last?
Although there is no standard duration, a baby shower generally lasts between 2 to 3 hours.
Guest List
Preparing a guest list can be a daunting task, especially trying to decide who to invite. Some of the things you should consider are;
Who to invite – Who you invite to your baby shower is up to you. In the end, it's your shower so you get the final say. Guests could include family, work colleagues, partners friends, and your circle of friends.
How many people should attend- The number of people that you invite will be determined by a few things. This includes your budget and the size of the venue. Also your personal choice. You may want to have a small celebration while others will want an extravagant and large party.
Mixed sex or women-only event – Traditionally, the guests at a baby shower have been women only. Yet more and more couples choose to have both men and women attend.
Budget
The budget for your celebration will be dependent on how much you want to spend. A typical baby shower can range from a few hundred dollars to thousands of dollars.
The major expenses will be your venue hire, catering and decorations. We go into further details on each of these below.
Baby Shower Venue
There are a wide variety of choices when selecting a baby shower venue. Below we have outlined some of the options and their pros and cons.
Home – A simple way to hold a baby shower is by having it in your house. You can cater yourself or get an outside caterer to come in. You can decorate how you like and make as much noise (within reason) as you wish. And you don't have to worry about the time of year and the weather. The only downside is having lots of people in your house and the clean-up afterwards.
Park – This can be a simple yet beautiful venue to have a baby shower. Especially if the weather is nice. It's an ideal venue if it is going to be a mixed-sex party. Lots of parks these days have BBQ's but decorations will need to be kept to a minimum. The cost should be free depending on the park you choose but you might have to check with your local council.
Hall – This is my favourite idea and is very popular. The cost to hiring a hall is around the $150 mark, and most halls have a basic kitchen for you to bring in food and heat up. Therefore reducing the catering cost. Or, if you choose, have an outside caterer come in. You can decorate the hall as much as you want and you have all the space to yourself. The weather won't be an issue no matter what time of year it is. The main downfall is you have a specific hire time, so your party will have to finish on time (Which could be a good thing). Also, you will have to clean up properly otherwise you won't receive your bond back.
Restaurant – If you don't mind spending the money and you have a smaller guest list a restaurant could be an ideal venue. The major benefits are not having to provide food for everyone and you won't have to clean up. The negatives are the cost and you don't have the space to yourselves. Therefore missing out on baby shower traditions like playing games.
Virtually – Due to the outbreak of COVID-19 a quarantine baby shower has been common. People are wanting to celebrate and share the love of a pregnancy. But due to stay-at-home orders, they haven't been able to leave their house. If you would like to learn more read our in-depth article on online baby showers.
Beach – Like any outdoor event, you are playing roulette with the weather. But if that doesn't worry you and you don't mind sharing the space with other people the beach is a great venue. It can be a relaxed atmosphere where people can go for a swim and have fun at the beach. The cost is free at most beaches while in some places you might have to book. Parking can also be a hassle, especially on nice days.
BBQ – A simple way to celebrate is by having a BBQ. Perfect as a mixed event and low cost as you can have it at a house, beach or park.
The venue you select will be determined by many things. This will include the budget, weather, location and how many guests you will have.

Baby shower registry
People will want to get you a gift to celebrate the upcoming arrival of your baby. To make it easier you may opt for a baby shower registry. This is a list held by a company that has a baby shopping list of all the items you would like to receive at your baby shower.
The idea is to list items that will help with bringing up the baby in the early years. This is a comprehensive list ranging from a few dollars to thousands of dollars. While some of the more luxurious baby shower gifts would be a shared present or from family members.
It is common for baby stores and large department stores to offer the registry service. However, my favourite registry is babylist. This is where you select your favourite products from different stores and have them on a single register. For example, you can add drool bibs from us, a pram from Redsbaby, and a zippy from bonds. All in the one list. I prefer this as you are not tied to the selection of one shop.
Themes
You may want to spice up your baby shower by adding a theme. The options are endless and only limited by your imagination. Below we have listed some of the more popular suggestions;
Animals – Think elephants, jungle, whales, sheep, dinosaurs, unicorns and horse themes.
Outdoors – If you are an outdoors kind of person your theme could be about nature. Something like a camping, beach, woodlands, forest or beach theme.
Sports – From car racing to golf, football to netball, a sports-themed baby shower is bound to be a hit.
Movies, Music, and Books – You could choose some of the classics like Star Wars, The Very Hungry Caterpillar, twinkle twinkle little star. Or some 80's music or your favourite band. These are just a few ideas for a different kind of baby shower that leans towards the arts.
Aquatic – An aquatic theme can be fun, especially if being held at a pool or beach. Themes including boys, sailors, mermaids and anything under the sea would look great.
Outer space- This theme is out of this world and can include the moon, stars, rockets, astronauts and aliens.
Occupation – Have your guests dress up in what they think the baby will do later in life. You will have lots of Doctors, nurses, construction workers, pilots and firefighters.
You don't have to have a themed baby shower and it can create extra work but it will make it more memorable.

Food and catering
Food and catering can be a major cost and there are many things to consider when deciding what food to offer.
The first thing to decide is who will do the catering. Will you have an external caterer come or will you be doing this yourself?
The season and the time of the party will have a big impact on what food you serve. For instance, you don't want to be offering a salad in the middle of winter for breakfast.
You also have to consider your guests' dietary requirements. And any allergies they may have.
Here are some simple yet delicious catering ideas;
Food
Having quality food at a baby shower is essential. For months and years after people will be commenting on it. Remembering the beautiful platter you served or the delicious meals you provided. So if possible try to offer a selection of food everyone will love. Here are some ideas to get you started;
Grazing plates – Always a favourite and perfect for year-round functions. You are also able to easily cater to peoples dietary requirements. They are easy to make and consume and don't make much mess.
Sliders – These tasty little burgers always go down a treat. Ideal for a lunch or dinner snack but can get a little messy.
Cake – It's nice to have something sweet at the party and a cake is a good alternative to cupcakes.
Cupcakes – Always a favourite, cupcakes are a cute way of celebrating the baby shower. You can also have them custom made. We had some cupcakes made by Andrea Cake Atelier to celebrate the opening of our Perth baby shop complete with little bibs.
Make sure you have catered enough, you don't want guests having to buy takeaway on their way home. And any leftovers can be taken by yourself or the guests.
Refreshments
You will want to offer a mixture of drinks for your guests. It's best to choose a selection of alcohol and non-alcoholic drinks.
Tea and coffee – No celebration would be complete without offering the guests tea or coffee. And perfect to have with your cake! Offer a large selection of teas as peoples tastes vary considerably.
Alcoholic – Whether you want to offer beer, champagne, wine, or (my favourite) apple spritzer. It's nice to have some alcohol for those that want to have a drink.
Non-alcoholic – You will want to offer some non-alcoholic drinks too. Things like water, soft drinks, kombucha, orange and apple juice are always welcome.
No matter what kind of party you are having it's best to keep your guests hydrated. By offering a large and variety of drinks your guests will be satisfied.
Baby shower decoration
Decorating a baby shower can be a rewarding and fun experience. It's all about preparing the venue for your guests to have a good time. Below we have offered some ideas on what decorations you could offer. Where possible try to go for the environmentally friendly or reusable option.
Bunting- Our nursery bunting can also be used for the baby shower as decorations.
Balloons – I'm not a fan of using balloons due to their impact on the environment, especially helium balloons. But as this is your baby shower it's up to you how you decorate.
Flowers – The more the merrier I say! Flowers can turn a dull space into a beautiful area for your party.
Candles – Depending on the time of day and the venue you choose, candles can be a nice addition. Be careful not to set off any fire alarms or sprinklers.
Flower centrepiece – A beautiful flower centre price will bring the room to life. This is also something you will be able to take home and enjoy long after the baby shower.
Sign or Banner – A sign or banner welcoming guests to the baby shower can be a nice gesture. It's also a good way for you to let your guests know they are at the right venue.
Keepsake or Card for guests to write in – Having something for your guests to pass on their best wishes is a nice thought. One idea is this baby journal where guests write on the cover while you fill out the rest after the baby is born.
Name tags – Although they aren't decorations, it's a good idea to have name tags printed out. This makes it easier for guests to get to know each other.
Flower wall – Another idea is to have a flower wall. This is a great photogenic prop that you and your guests will love!
Although decorations won't make or break the party, they will provide a nice ambience. Try and make the decorations as warm as possible so people are more relaxed and ready to have a good time.

Furniture and utensils

If you are having the festivities at your home you may need to hire, buy or use your own furniture and utensils.
Here we have listed some of the basics you will need along with some nice to haves. Your requirements will vary based on the venue, budget and style.
Table and Tablecloth – If you don't have enough table space you could always borrow one. Or you can buy a foldable table from Bunnings. A few white cotton tablecloths are a nice addition.
Chairs – You will want to have enough chairs to cater for those who would like to sit. I'd work on having a seat for everyone so they can sit and eat. You may wish to not have any chairs at all, as having fewer chairs forces people to mingle more.
Eating Utensils – These days you can buy some very cool and stylish eating utensils. Stay away from plastic products and go for this recyclable bamboo option.
Napkins – Any major supermarket will have a selection of Napkins. If you do want to have something a bit extra you could get some printed with your baby shower details.
Spiral cake display – If you plan to have cupcakes, you should have a spiral cake display. They are cheap yet add a little more style to your decorations.
Glasses – Make sure you have different types of glassware for the different types of refreshments you are serving. Get more than there are guests as they may have different types of drinks throughout the party.
Water Jugs – Have water jugs and lots of water in hand. Australia can get very hot and especially in summer you will want lots of water available.
Hot water urn – A hot water urn is essential for those who want tea or coffee.
Cups and sources – You may want to splurge on a nice set of cups and sources. This way, after the party, you can have a nice set for yourself.
Teapots – A stylish teapot will add that extra bit of elegance to the party. Hide the urn out the back and serve people in a beautiful teapot instead.
Cart – If you don't want to use tables you could hire a cart to serve all the food and refreshments. They look very cool and will bring that extra style to your baby shower.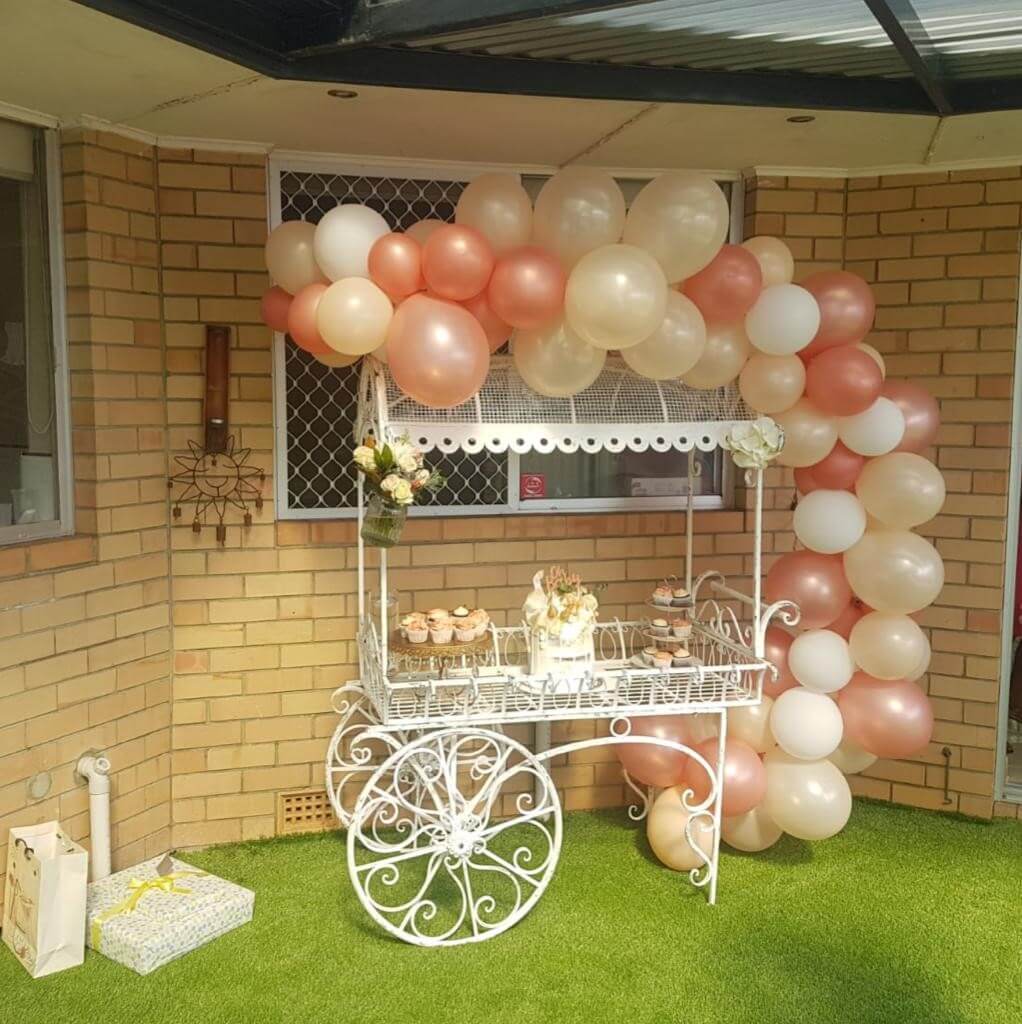 Whatever furniture and utensils you choose, try to think long term. If possible buy items that you will reuse yourself in the future. If you don't think you will use them again look into hiring them.

Gifts and Present Opening
Gift-giving is a major part of any baby shower. The idea is to give presents to the expectant parents that will be used in the first few years of their babies life. Raising a baby can be expensive, so any gifts are always appreciated.
How much to spend – It can be difficult to know how much a guest should spend on a baby shower gift. This will depend on your relationship with the parents-to-be. For a work colleague, I'd expect to pay around $30. If you are a close friend expect to pay $60. While a best friend or family member is around $80. This will also depend on your financial situation. The parents-to-be are more concerned with your attendance rather than the present you give.
Types of gifts – When deciding what type of gifts to give choose something that will be used in the first 12 months. Something that is practical and will be welcomed. When we developed our baby gift sets these are what we had in mind. For inspiration on gifts read our minimalist baby or baby essentials list articles or visit our baby gift shop in Perth.
When to open the gifts – During the baby shower, you will be given many gifts. You may not know when you should open your baby shower gifts. Traditionally people like the gift opening at the party but it is up to you.
Gifts are a big part of the baby shower but they shouldn't be the main focus. The parents-to-be would be more grateful for your attendance rather than the gifts. The baby shower is a time to share with friends and family before the birth of the baby and shouldn't be about the baby presents.

Baby shower games
Baby shower games are a great icebreaker and a chance for people to mingle and get to know each other. Below we have listed some baby shower games you may want to include. For more information see our in-depth article on baby shower games and how to play them.
Baby name race
Baby unscramble
The price is right
Don't say baby
Prizes – baby shower favours
Quiz
Relay race
Song game
Unscramble
We haven't gone into great detail here as this has been covered in our baby shower games article.

What to wear and dress code
You may be wondering what you should wear or if there is a dress code for a baby shower.
Traditionally guests get dressed up for a baby shower, think smart casual. However, as the host, it is up to you to determine if you want your guests to dress up. If you are having a themed party you may want to have your guests dressed up in a theme. When it comes to dressing up you may want to include a sash or hat that says "Mum to Be".

Baby shower alternatives
Some people are moving away from traditional baby showers. Below is a small list of other options. But to learn more we have a detailed article on baby shower alternatives.
Stocking the nursery party
Jack and Jill party
Drive through baby shower
Shower by mail
Dinner party
Mother Hens night out
Baby queue
Surprise baby shower
High tea • Spa party
100 days celebration
Blessingway
These are some of the options available for celebrating the upcoming birth of a baby. In the end, you may not wish to have a party at all and enjoy the time with your bump and partner.
Whatever you decide to do, we hope that this baby shower guide has helped. If you have any questions or comments please feel free to reach out.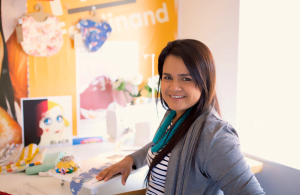 This article has been written by Luisa Figueroa. She has attended many baby showers over the years and is the owner, designer, and maker of the My Little Love Heart range of baby products. She is the mum of one and has been working within the fashion industry for over 15 years. Specialising in baby accessories for the last 5.