A traditional baby shower is not for everyone. So we have compiled 17 fun and original baby shower alternatives. 
Some of us love huge parties while others like a more intimate occasion. This list offers a baby shower to fit anybody's personality and style. These include;
Gender Reveal —  The gender reveal party is something that has started to become more popular over recent times. This is when you announce to the world whether you're having a boy or girl. These can be standalone events or included in the main baby shower.
Virtual Baby Shower — Holding a virtual baby shower has become very normal in recent times due to COVID-19. Because of the pandemic and local lockdown laws holding a virtual baby shower has become very popular. We have written an extensive piece on how to hold a virtual baby shower so I won't go into details here.
Drive Through Baby Shower —  Another way to celebrate a baby shower in the time of the pandemic is a drive-through baby shower. Once again due to social distancing rules, the traditional baby shower isn't recommended and in some places gatherings are illegal.  A drive-through baby shower is where the mum-to-be stands in the driveway while friends, relatives, and well-wishes drive to their house. Here they can stop, have a quick chat and leave a baby shower present if they wish, while the whole time keeping distance between the friend and mum to be.
Shower by Mail – The shower by mail is very similar to a virtual baby shower, although it's more about gift-giving. Here you post out your invites to attend a baby shower online. People would send gifts for you to open while online with them. You can also play games and eat cake. If you are going to do this we'd recommend doing a full-blown virtual baby shower. 
Sip and See (Welcome Party) —  Sometimes a traditional baby shower is just not possible. Whether it's because of location, timing, or a pandemic like we are currently facing. This is where a sip-and-see party can be a nice alternative. The sip and see, or welcoming party is held shortly after the birth of the baby. It is normally held at the new parents' home with the couple's closest family and friends. This will give everyone deer to the parents a chance to meet the new baby. Some light drinks and snacks are also provided.
Stocking the Nursery Party — You may be financially secure or not want your guests to spend lots of money on gifts. If so, a stocking the nursery party would be a good alternative for you. This is designed as a small get-together where people give you consumable gifts. Specifically, items that you constantly buy after the baby arrives. Think nappies, rusks, wipes, bibs, and dummies. For ideas visit our baby shopping list.
Small things —  While a stocking the nursery party focuses on giving consumables as a gift, a small things party is for those smaller items. Think of things like nail clippers, baby burp cloths, bottles, and swaddles. You can even put a limit on the value, say nothing over $40
Jack and Jill (boys and girls) party —  A Jack and Jill or boys and girls baby shower is similar to a traditional shower except it is for both men and women. They are quite common for an engagement party but aren't as popular for baby showers. The benefit to having a coed shower is that all your family and friends can celebrate the upcoming birth together.
Dinner party —  Large gatherings and parties might not be your thing so you may choose something a little more intimate. A dinner party with your closest friends and family could be the perfect solution for you. This would also take less organising and choosing the venue a lot easier.
Mother Hens night out — We are all familiar with a hens night to celebrate the upcoming marriage. The mothers hens night is similar but it's to celebrate the upcoming birth of the baby. This is where you and your girlfriends get together and hit the town. I'd recommend not doing this at 40 weeks as your last stop might be at the maternity ward. This party is designed for the young generation and those that love to party.
Baby Que – A Baby Que is a unisex celebration that is normally held in a backyard. It's a less formal affair and is a relaxed atmosphere with a few drinks and a barbecue. For a baby que you can still do some of the traditional things like gift-giving and baby shower games.
Surprise Baby Shower — The surprise shower can be a fun way to celebrate with the mum-to-be. It also takes away some of the stress of her thinking about the baby shower. Some people don't like surprises so this kind of shower isn't suitable for everyone.
High Tea – A high tea is perfect for those who have a small or close circle of friends. The mum-to-be can enjoy celebrating the upcoming birth with those closest to them. This is a perfect baby shower alternative for people who are from overseas or don't have a huge network of family and friends.
Spa Party — Treat the mum to be and her family and friends to a spa party. Ideal for spending time in a relaxed atmosphere with her closest friends and family. All the while being pampered.
100 Days Celebration — The 100 day celebration is a party to welcome the baby after they are born. It is held approximately 100 days after birth. Normally celebrated throughout Asia, this party is attended by both men and women. 
Blessingway —  Most alternatives to baby showers are focusing on the baby and the upcoming birth. This is where the blessingway is different. It focuses on the mother rather than the baby and is traditionally attended by women only. These are the mothers' closest and most trusted people and can include friends and family. The celebration is a spiritual shower and can involve bead making, massage, belly dancing, and telling birth stories.
Nothing at all — Finally, you may wish to do nothing at all. After all, it is your choice and you may want to spend the time with your significant other or preparing for the upcoming birth. 
No matter what kind of baby shower you have (Or don't) we hope you enjoy it.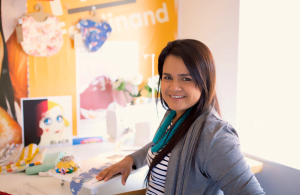 Luisa Figueroa – Designer ProfileOwner, designer, and maker of the My Little Love Heart range of baby products. I have been working within the fashion industry for over 15 years and specialising in baby accessories for the last 5. My love of fashion has enabled me to work and study around the world.