Our baby headbands are made in Perth using stylish solid colours and beautiful prints. These are available in-store or online.
Prints and Colours of Baby Headbands
We have a large selection of colours and prints of baby headbands we handmake in our East Perth store. These include;
Prints – We have a variety of different prints in our headbands for babies. These include the Daisy, snugglepot, blossoms, and floral Dream designs.
Plain Colours – Our selection of plain solid colours includes purple, mustard, black, red, pink, and off-white.
Technical Specifications and Materials
Although they are designed for babies from zero to 5 years old, and the headband is extra stretchy, meaning any aged girl can use them. The bow section of the headband is made from cotton, while the headband itself is made from Nylon. We attach the bow to the band by sewing, so no glue is used in the making process. Each one is made by hand at the East Perth store.
Online, In-Store, or Delivery throughout Perth
Our range of baby headbands is handmade in Perth. These can be ordered online and delivered. Or you can collect in-store or visit us at our East Perth store.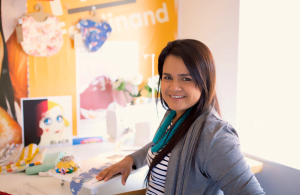 This article was written by Luisa Figueroa. She is the designer and maker of the My Little Love Heart range of headbands for babies.