We handmake our reusable breast pads in Perth using absorbent, soft and eco-friendly materials. 
We make these ourselves at our shop in East Perth where you can see the complete range while inspecting the quality.
Benefits of Reusable Breast Pads
There are many benefits to using reusable nursing pads over disposable ones. These include;
Safe and Comfortable
Environmentally Friendly
Cost less overall
Use for latter babies
Better air circulation
No chemicals used in manufacturing
Prevent milk stains
Materials and Specifications
We make a range of products in our East Perth shop including these nursing pads.
They are made with three layers. The top layer is a printed or plain-coloured fabric front. While the middle layer is a super absorbent PUL material. While the third and final layer is a soft bamboo fabric. That is gentle on your delicate skin. 
The measurements of these are 12cm x 12 cm and are sold in a pack of two.
Colours and Designs
We make a variety of different colours and prints of the nursing pads. These include plain colours like black, mustard, white, and tan brown to name a few. We also have floral prints including the blossoms, floral gumnuts, and blooms. Our animal prints include the rabbit, safari, kangaroo and koala designs.
Care and Maintenance
These are easy to take care of. They can be placed in the wash and then tumble-dried. Please read our detailed care instructions before use.
Online, Delivery and In-Store in Perth
You can buy our reusable nursing pads online, and we can deliver these anywhere in Perth, Australia, or worldwide. You can also visit us in our East Perth store where we can show you how we make these, and shop our complete collection.
Further Resources
If you would like to learn more we have an abundance of additional resources for breast pads. Or if you have any questions please feel free to contact me or visit us at our East Perth shop to learn more.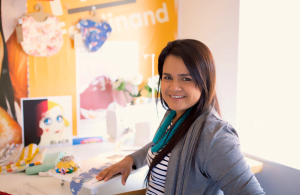 This article was written by Luisa Figueroa. She is the owner of My Little Love Heart. Which designs and hand-makes a range of reusable nursing pads.