We offer stylish and practical 1st Birthday gifts from our Perth store for girls and boys.
First Birthday Presents are available in our East Perth Shop
With a variety to choose from, we have presents to suit a 1st birthday for boys and girls. Below are some of our recommendations and what you will be able to find in our store.
Bibs – These can also be given as a baby present, bibs are one of the most practical items you can give. If you are attending a 1st birthday we recommend the bandana or toddler style. We include many of our bibs in a variety of gift sets that you can find at our gift shop in East Perth.
Feeding Accessories – We stock a range of silicone feeding accessories that are perfect for a first birthday. These are from Perth brand Little Ray Lane and are stylish, versatile and practical.
Toys – We have a selection of wooden toys that are fun and safe for one-year-olds. These include a fruit and veg cutting set and wooden toy cars.
Babychino Cup – These babychino cups are available in a selection of designs to suit girls and boys alike. Perfect for drinking milk, babycinos or water.
Bath Toy – Make bath time fun with this selection of natural rubber bath toys. They are available in a range of different styles to suit even the fussiest of one-year-olds.
Hair Accessories – For the girls, we have a large range of Perth-made hair accessories. We handmake this in-store in a variety of different styles, sizes and prints to suit any little girl. And these would be the ideal present for her to wear at her first birthday party.
Rattle and Teether – The koala-themed rattle and teether is super cute and made from natural rubber. They are versatile and can also be used in the bath.
Hooded Towel – The hooded towel is ideal for bath time and perfect as a gift for a one-year-old. It is practical and will be used for many years.
Brush and Comb Set – This stylish wooden brush set is perfect for babies and toddlers alike. It has three brushes in each set, all for different applications.
Premade First Birthday Gift Sets
In addition to the one year old gifts above, we have some pre-made first birthday gift boxes for boys and girls. These sets are hand-selected to include items that are stylish, practical and the perfect gift to give. We can even have this delivered for you if you are sending it from overseas or can't attend the party.
Wrapping & Cards
We have "Happy Birthday" cards for boys and girls. And we can write the baby's name on the envelope in calligraphy to make it that much more special. We also provide beautiful gift wrapping so there is nothing else for you to do before the party.
Shop Online, In-Store or Delivery throughout Perth
You can purchase our one year old gifts online and collect them. Or you can visit us at our East Perth store. Or alternatively, you can contact us and we can organise delivery throughout Perth and Australia.
Thank you for reading about our gifts for one year olds. If you have any questions please get in touch with us or visit us in-store.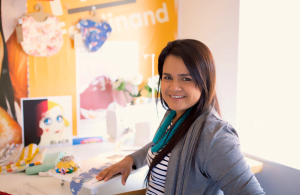 This article was written by Luisa Figueroa. She is the maker, designer and owner of My Little Love Heart which specialises in baby gifts.