A "Sip and See" is a party or gathering where guests are invited to visit a newborn for the first time. Here they are able to have a few drinks and meet the baby.
It occurs around 4 weeks after the birth but can be earlier or later at the parents' discretion. This is because some parents prefer a celebration instead of a baby shower.
Baby Gifts
So what type of gift should you bring for a sip and see?
It will differ from a baby shower present or gender reveal gift. This is because these gifts are given before birth. When the parents are still planning and have received very few presents.
A sip and see gift will be given after the birth, so they would have already received lots of the essential items. So keep this in mind when buying sip and see presents. You may instead like to buy a gift for the mum.
So what makes for a good sip and see gift? As the party could be a few months after the birth you want to give something that is suitable for a baby between 3 months and 1 year.
We have written this article on what to look for when buying a baby gift to help and below we have some gift ideas for a sip and see.
These include;
Teethers
Teethers are a great gift as babies can start teething at the age of 3 months. Therefore this gift won't be used during the newborn period but can be used soon after the sip and see party.
Bath Toys
A bath toy can be used for many years and we love the Oli and Carol range. These 100% natural rubber organic bath toys are perfect for babies and children of any age. They are made in a single mold with no holes preventing mould from being trapped inside.
Wash clothes
This item is sometimes missed off baby shower registries and it is not considered a stylish or cool gift. But a baby washcloth is an essential item that would be a great present to receive at the sip and see. It's also a gift that the whole family could use.
Bibs
Babies can go through lots of newborn bibs. And by the time the sip and see comes around the new parents will be happy to receive more. Especially the bandana style bibs which are ideal for a teething and drooling baby. This is one of the most useful baby presents you can give.
Feeding Bowls and Utensils
As these types of products aren't thought about during the pregnancy, feeding bowls and accessories are a great sip and see present. Babies may start on solids as early as 6 months so will be used soon after the party.
Toys and Blocks
As the baby gets older they will start to be more active and playful. Therefore some toys or blocks are a good idea. The Micki range of toys is made from eco-friendly wood and is suitable for babies ages 8 months and up.
Books
There is no better present than the gift of words. Books are a great idea and will be used for many years to come. The books which we stock all have nice and uplifting meanings. 
inquisitive. A sensory board is practical and will be used a lot. These are mobile and small enough to fit in the base of the pram.
These are some of the present ideas you can give for a sip and see. If you are looking for more ideas read our baby shopping list article or if you have any questions please feel free to contact me.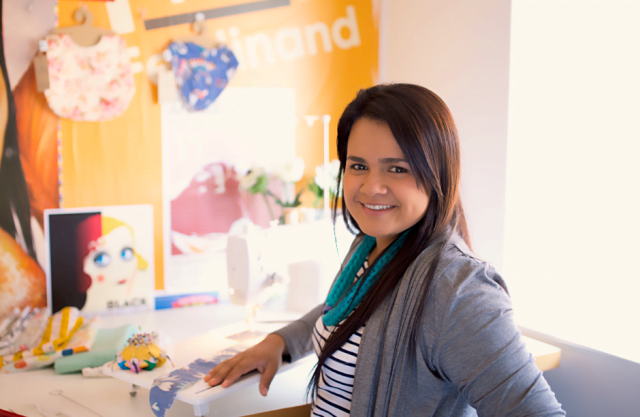 This article was written by Luisa Figueroa. I am the owner, designer and maker of the My Little Love Heart range of baby gifts and products. I have been working within the fashion industry for over 15 years and specialising in baby accessories for the last 5. My love of fashion has enabled me to work and study around the world.