We have a selection of dinosaur baby gifts and accessories that any new baby will love.
Dinosaur Themed Baby Gifts
Our Dino-themed baby hampers include;
• Mini Dinosaur Set – This set contains a dinosaur print bunny teether and bandana dribble bib. It comes with a greeting card and is beautifully packaged. And we can write your best wishes in the card and have it delivered.
• Medium Dino Set – The medium Dino set comes with a burping pad, newborn bib, dribble bib and bunny teething toy. It comes beautifully gift-wrapped and a card to include your best wishes. This is the perfect gift for a newborn boy. All these products are stylish and practical.
• Baby and Sibling Dinosaur and Set – This baby and sibling dinosaur set is super cute. For the newborn, there is a baby bib and burp cloth. While for the older sibling, there is a dinosaur-themed baby chino cup. This way the older child doesn't feel left out.
• Deluxe Dino Set – The deluxe Dino set comes with a selection of stylish and practical products. This set contains a baby record book, a Natursutten dummy and a soother clip. While the dinosaur-themed products include a bunny teether, burp cloth, and bandana bib. This gift box comes with a card and is beautifully gift-wrapped. And we can include a message and organise delivery for you. This would make the ultimate baby shower hamper and an ideal shared gift.
• Twins Baby Gifts – The dinosaur twins-themed hamper is both stylish and practical. It comes with two bandana bibs and two bunny teethers. So each baby can have their own and no need to share.
Dinosaur Themed Baby Accessories
We have a selection of dinosaur-themed baby accessories that are stylish and practical.
These include;
Bibs – We offer three different styles of bibs in the dinosaur print. The first is a newborn type which is perfect for a new baby. The second is the bandana style which is great for heavy droolers. While the third has a large covering on the front designed for messy eaters.
Burp Cloths – Another one of our handmade dinosaur-themed baby products is the spit-up cloths. These are ideal for a newborn baby present and are made from sustainable materials.
Teether – This bunny teether is handmade in Australia using organic and eco-friendly materials. This is available in a beautiful dinosaur print that has a cream background, brown love hearts, and a dark green dinosaur on it.
Babychino Cup – The dinosaur-themed babycchino cup is made from bamboo making it organic and eco-friendly. It is reusable and comes with a straw and the design is light purple with lots of dinosaurs roaming over it.
Dinosaur Print
The dinosaur print we use to make our baby products has a beautiful cream background. It also has different-sized brown love hearts and a dark green dinosaur that seems to be roaring out the hearts.
Delivery, Online and In-Store
We offer delivery throughout Australia and worldwide. You can find all of these sets, plus more, on our online baby hamper page. And if you are in Perth you can visit us at our baby hamper store in East Perth.
If you have any questions or comments on our Dino-themed gifts please contact me.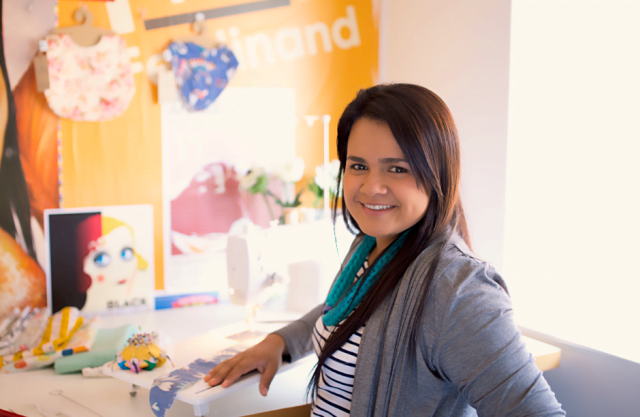 Luisa Figueroa wrote this article. She is the maker, designer and owner of the My Little Love Heart range of gifts and accessories.