We specialise in newborn baby gifts that are stylish, practical and perfect for welcoming the arrival of a newborn baby.
Below we will answer some questions and provide ideas on the best newborn presents to buy.
Do you bring a gift when visiting a new baby?
Having a baby is an exciting time for the new parents, family and friends. And it is customary to celebrate the arrival of a new baby by bringing a gift when visiting for the first time. But the present is not the most important thing. The fact you have made an effort to see their newborn is more appreciated.
What age is a newborn?
The newborn age is considered to be between birth and 3 months of age. While an infant or baby is classified as up to one year. So when buying a newborn gift consider the age appropriateness of the products.
What should you look for in a newborn hamper?
To buy the perfect newborn hamper there are a few things to consider. These are;
Age Appropriate – Since a newborn is considered to be under 3 months it is best to buy products that can be used within this time. Items suitable for a toddler or older child wouldn't be appropriate for a newborn hamper.
Useful – It doesn't matter how beautiful the items look if it's not useful. The products in the newborn box set should be practical and something the parents-to-be will need.
Local – We recommend buying gifts from your local gift shop. Many small businesses are run by mum-and-dad operations and every sale counts. By supporting local and small businesses you keep the money in the local economy.
Australian Made – When buying a present for a newborn, ideally it will be an Australia Made hamper. Products that are made in Australia are longer lasting, higher quality, and help support local employment and business. We also have a selection of gift boxes that includes Australiana themes like our kangaroo and koala gifts.
Eco-Friendly – When selecting your newborn gift box try to choose items that are made from eco-friendly and sustainable materials. The packaging should be plastic-free and made from recycled materials. We have a selection of organic baby hampers that any environmentally conscious parent would love to receive.
When do you give it?
It is customary to give the newborn baby gift when visiting for the first time after the baby has been born. But there is no harm in giving the present before or after a few visits. Any gift will be welcomed whenever it is received.
Do you give the gift to the mum or baby?
When it comes to new baby gifts it's best to buy something for the baby. However, these days, more people like to include the new mum and the family in gift-giving. This is also fine and we have a range of bub & mum hampers that are suitable for both.
How much do you spend on a new baby gift?
When deciding how much to spend there are a few things to consider.
Firstly, have you already brought a pregnancy gift or a baby shower present? If so you shouldn't spend too much. Secondly, everyone's personal and financial situation is different. While some people can afford a luxurious present others may not. In this case, spend what you feel comfortable spending. The new parents would much rather have you visit without a present than see you in personal hardship. Thirdly, your relationship with the new parents can impact how much you will spend. If you are the best friend or a relative expect to spend a little more.
So in summary, although it's not absolutely necessary to buy a newborn present if you do expect to pay between $40 and $85. To get a more thorough idea use our article on how much to spend on a baby shower present and this will give you a good indication.
Is it OK to give money for a baby gift?
Giving money or a gift voucher is a suitable present for a newborn baby. This way the new parents can buy products they need. But keep in mind that some people think that giving money or gift cards is impersonal. While others love the idea. So think carefully if this is a type of gift that the recipient would like.
Where to buy?
When looking where to buy a present there are a few options. These are;
Online – There are a huge amount of online stores that sell baby gifts. So make sure you check to see if you are dealing with a reputable company. We have outlined what to look for in our online baby hamper article.
In-store – Similar to online there is a variety of stores that sell baby gifts. We recommend visiting a specialist gift store for babies as they will recommend what products are the most appropriate.
Markets – Markets are a great place to buy gifts for all age groups. And there is always a large selection of products to purchase. But if you are buying for a baby check it complies with Australian Standards. Many people who make homemade gifts aren't aware of the safety standards that need to be adhered to.
What are some good newborn baby gift ideas?
If you don't want to buy a pre-made hamper we have provided some ideas below. Each one would be suitable for a stand-alone gift for a newborn, or alternatively, you can build your own hamper. Some newborn baby gift ideas are;
Bibs – Babies go through lots of bibs so this present won't go to waste. We handmake three different styles of bibs and suggest the newborn type to start off with.
Bibs
Burp Cloths – A burping cloth is another great gift for newborns. This is a versatile product that is placed over the parents' or visitors' shoulders to protect them from spit-up when burping the baby. We handmake these in our East Perth shop and are available in a wide selection of prints and plain colours.
Burp Cloths
Teethers – Teething toys make for a perfect gift for a newborn. Babies can start teething as early as two and a half months so it would be age appropriate. We offer two styles of teethers. The wooden bunny Teether and the organic natural rubber teething toy.
Bunny Teethers
Bath Toys – Some babies love bath time while others hate it! But including a toy will ensure the baby has fun. We offer the Oli and Carol range of bath toys that double as a teether. These are made from 100% natural rubber and or an organic and eco-friendly bath toy.
Swaddles – A swaddle is another great gift for a newborn baby. They are a very versatile product and will be used within the first three months and beyond. Apart from swaddling your baby, you can use them as a feeding cover and pram cover. As well as a light blanket for day-to-day use.
Swaddles
Hair Accessories – If you are buying for a newborn girl present you may like to get a hair accessory. We handmake a range of baby hair accessories that are stylish and on-trend. Our range includes top knots, newborn, baby and toddler headbands.
Baby Hair Accessories
Nursery Bunting – The gift doesn't have to be exclusively for the baby. You could always buy something for the nursery. Our handmade nursery bunting is stylish and can be used for many occasions. If choosing to give this as a present we would suggest getting the parents input!
Nursery Bunting
Brush and Comb Set – This is a stylish and practical gift that any new parent would love to receive. This brush set contains a massage brush, soft tip comb and soft bristle brush. And is the perfect gift for grooming the baby's hair.
Washcloth – A washcloth isn't the first thing you think of when shopping for newborn presents. But this is a practical item that can be used for the newborn and the whole family. Our washcloths are handmade using organic and eco-friendly cotton bamboo material. So it is soft on your skin and the environment.
Book – Give the gift of learning! This black-and-white book has large high contrast images that can help with their development. It is suitable for babies between 0 and 6 months of age and has been made in an accordion style so the baby can look at it during tummy time.
Milestone Discs – This is a gift that keeps on giving. These wooden milestone discs will help the new parents celebrate all the babies 'firsts'. From welcoming the baby to counting the weeks there is a disc to suit. And the best thing is they can be used for subsequent children.
Journals and Diaries – What better gift than giving something that the parents-to-be can look back on for years to come? At our baby store in Perth, we stock a range of diaries and journals where new parents can record all their memories. This makes for the perfect keepsake present which the new parents will look back on with fondness.
Bath Toys – Some babies love bath time while others hate it! But including a toy will ensure the baby has fun. We offer the Oli and Carol range of bath toys that double as a teether. These are made from 100% natural rubber and or an organic and eco-friendly bath toy.
We hope that you have enjoyed and learnt more about our newborn gifts and given you some ideas. If you have any questions please feel free to contact me.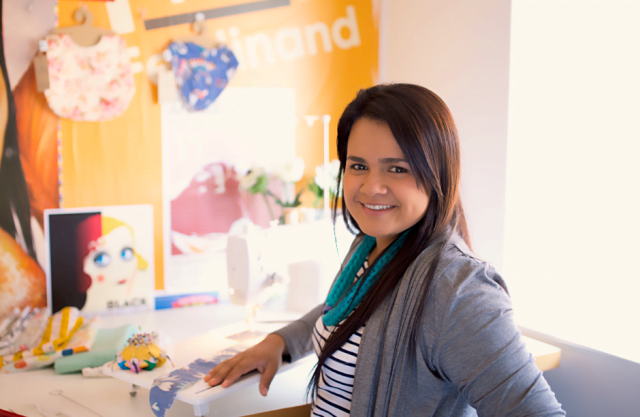 This article was written by Luisa Figueroa. She is the owner, designer and maker of the My Little Love Heart range of baby hampers and accessories.