East Perth is a tranquil yet vibrant suburb. Bustling with locals and visitors alike! Apart from visiting us at our baby gifts store on Wickham Street, there are lots of other things to do. So if you are planning a trip or even a move? Here's everything you need to know, and things to do East Perth!
Where Is East Perth?
East Perth is a suburb of Perth, Western Australia. It's next to Perth's central business district.
The suburb is bordered by the Swan River and is located across from Victoria Park. It is also home to Claisebrook and Claisebrook Cove. Needless to say, there are plenty of places where you can get a great waterfront view!
Shopping
There are lots of opportunities to shop 'til you drop (or just window shop!). There is a healthy mix of small businesses and larger shops. So you can experience the best of both shopping worlds.
My Little Love Heart
If you have a little one of your own or want to buy baby gifts for someone else, come to My Little Love Heart baby shop! We make stylish, affordable, and practical products for babys.
My Little Love Heart was born out of a love for fashion and a need for quality baby accessories. Our very first product was our organic bandana bibs, which are our bestsellers to this day!
Our catalogue is always growing. We offer bibs, teethers, dummies, muslin wraps, spit-up cloths, feeding sets, and much more!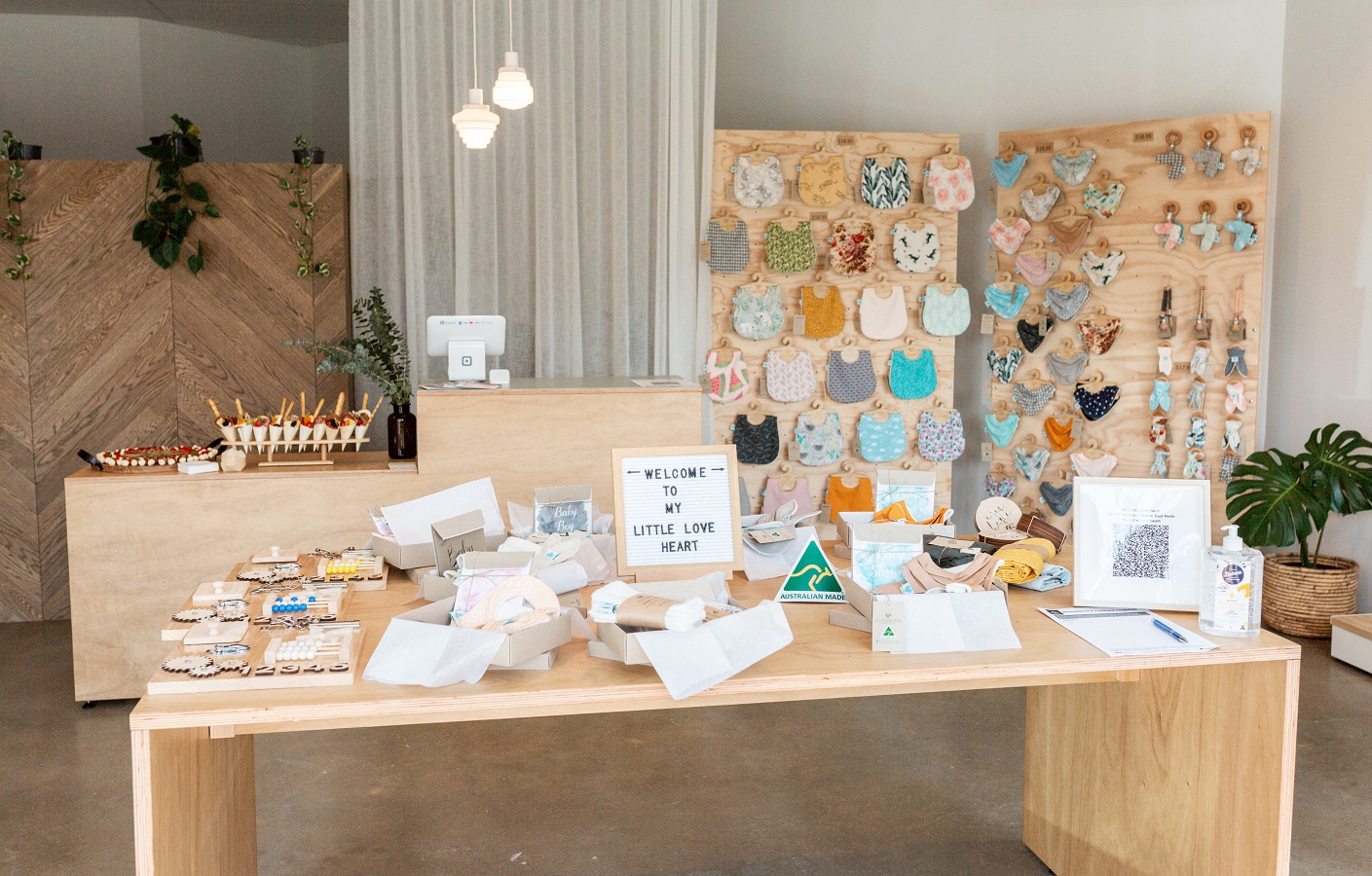 Fara Couture
Fara Almasi has been in the fashion industry for over 25 years. And has made Royal Street her home with Fara Couture.
Here you can find contemporary, edgy, yet feminine evening gowns and wedding dresses. If you already have a gown but it's not quite perfect, you can get it altered here, too!
All the dresses are made with love and high-quality fabrics, in a wide range of styles. There are lots of bridal headpieces and accessories available to complete your look!
Child Education Services
While shopping for baby items, you might want to pick up some children's books. Child Education Services is a specialist children's bookshop. And can be located in Royal Square, on Royal Street.
Child Education Services has an awesome selection of classics and newer books. Including lesser-known and unique titles. They also have lots of kids' activities and toys! Be careful visiting with your own little one(s) — they won't want to leave!
Attractions – Things to do East Perth
The Perth Mint
Built in 1899 as a response to the gold rushes, The Perth Mint is still operational today. It is Australia's official bullion mint and the only refiner of gold.
The Perth Mint is also one of most popular tourist attractions in the area! You can tour the gallery to see the biggest gold coin in the world and a 40-million-year-old gold nugget. As well as watch a live gold pour. You can also buy customisable souvenirs, bullion, jewellery, and precious stones!
Optus Stadium
Although sitting outside the suburb's limits. The new Optus Stadium is the place to be for all things sports! Also known as Perth Stadium, a variety of major sporting events in the area take place here. There's cricket, soccer, AFL, rugby, and music concerts.
The stadium itself is surrounded by Stadium Park. This has playgrounds, a boardwalk, an amphitheatre, and picnic areas. You can take a tour to see the inner workings of the stadium, as well as see some rare, WA sports memorabilia.
Heirisson Island
Heirisson Island is a little slice of natural paradise. Located in the Swan River, you'll find a kangaroo sanctuary, a playground, barbecues, and picnic shelters.
This island is very important to the local Noongar people. Because it's a crossing point between the two sides of the river. The area is known as Matagarup, meaning "a place where the river is only leg deep, allowing it to be crossed."
Matagarup Bridge
Speaking of Matagarup, the Matagarup Bridge was opened in 2018. And became one of the most iconic attractions in Western Australia. This pedestrian suspension bridge connects East Perth to Burswood.
If you're feeling adventurous, you can climb up and then zipline back down the bridge! A zip and climb excursion also involves a guided tour and a walk on a glass-floor platform. This is a great opportunity to learn about the area's history.
Perth City Farm
Perth City Farm is a community farm in the heart of the city, established 28 years ago. It has been encouraging sustainability and community connection ever since!
Here, you can volunteer on the farm, take an interactive tour, and learn skills at workshops. You can also shop for plants, flowers, and gifts throughout the week. As well as browse produce at the Saturday Farmers Market.
East Perth Cemeteries
The East Perth Cemeteries comprise eight cemeteries from the colonial era. Over 10,000 people have been buried here, from aristocracy to peasants.
Though only 800 headstones remain, there's a lot of history to be discovered. There's an interactive map, a burial database, as well as an audio trail detailing interesting stories. This is located less than 100 meters from our shop.
Gloucester Park
Harness racing is also known as horse trotting. It's a horse race that consists of horses pulling a driver in a wheeled cart. At Gloucester Park, you can watch exhilarating harness racing. Featuring some of the best horses and drivers in WA! This a great place to spend the evening. As there are three awesome eateries on-site: Steelo's, The Beau Rivage, and JP's Bar.
Parks & Playgrounds
Wellington Square
Wellington Square, also known as Moort-ak Waadiny. Is a newly-upgraded park with an amazing playground.
The playground is called Koolangka Koolangka Waabiny. Which is Whadjuk Noongar for "Children Children's Playground." There are tons of activities. Including nature play, a skate park, climbing towers, basketball courts, and embankment slides!
There are also picnic areas and an off-leash dog park on-site. Also, the park has a place of reflection to remember the Stolen Generations.
Langley Park
With stunning waterfront views of the Swan River, there's no better place to spend an afternoon than Langley Park. Despite being next to one of the busiest streets, it's a great place to relax and soak up some sun. This park has a small playground and is also the venue for many local events. Check to see if there's anything cool going on while you're in town!
Queens Gardens
Located on the site of what used to be a quarry, Queens Gardens was opened in 1899. The lawns are well-manicured and decorated with trees, shrubs, and flowers. The peaceful atmosphere here is unmatched! One of the most well-known features of Queens Gardens is the whimsical Peter Pan statue in the heart of the park. It's even been signed by the creator of Peter Pan!
Mardalup Park
Mardalup Park used to be an industrial Gas Worksite. And a Noongar camping ground before that. Its name is Noongar for "place of small marsupial."
This park is near the Matagarup Bridge and is very tranquil, perfect for taking a break when in the area. With a view of the Swan River, you can enjoy the well-maintained parklands, and the fun playground. You can use the barbecue area and exercise equipment too.
Dining & Drinking in East Perth
The Royal
Want to dine with some stellar waterfront views of the Swan River? The Royal is a bistro and pub on Claisebrook Cove, with a spacious outdoor terrace and indoor area. They have both a dining menu and a bar menu.
The Royal serves some of the best, modern Australian dishes and pub food. Including a mouthwatering Angus burger. They also have a great selection of wine and craft beer!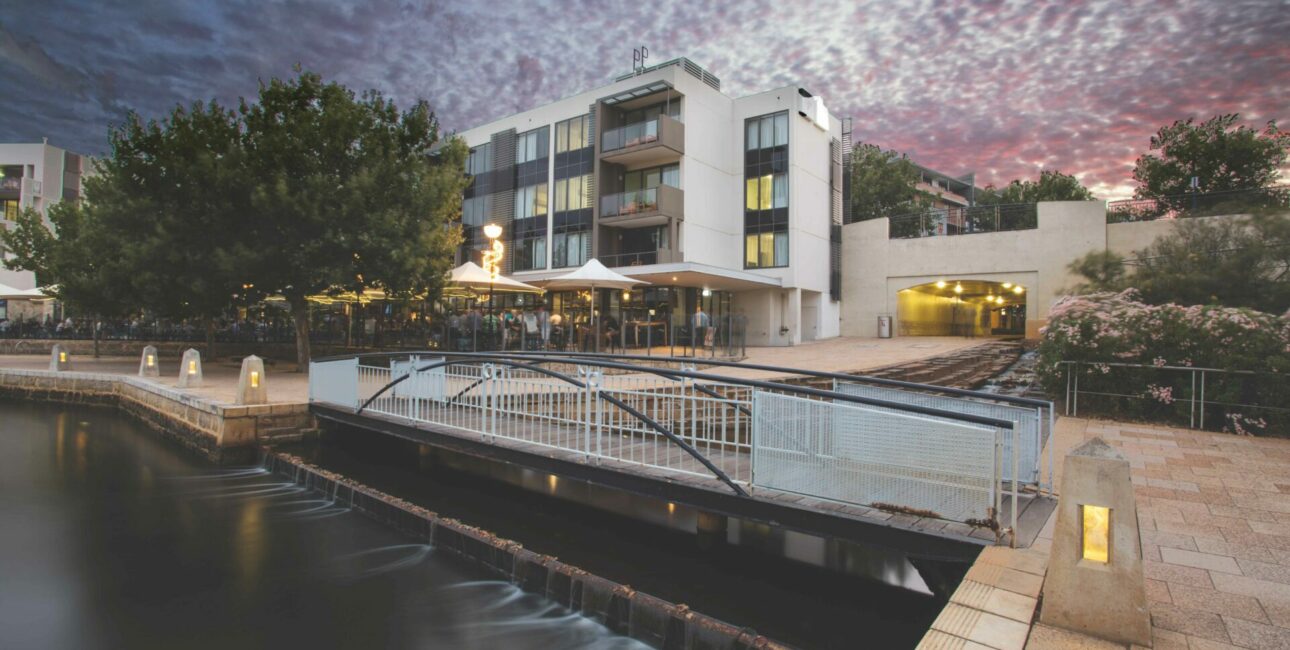 Wok & Ladle
Wok & Ladle is an unassuming Thai eatery that is one of the best yet most affordable dining options in the area! It's a cosy, counter-serve restaurant with seating inside and out. Though you can also get takeaway.
Wok & Ladle is a local favourite, serving classic Thai and Asian dishes. Their stir fries and tom yum soup are especially amazing!
Blackbird
On the other end of the spectrum, Blackbird is a European restaurant with a focus on Fresh cuisine. This intimate eatery sits on the edge of Claisebrook Cove, offering great views.
The menu here consists of classic, rustic European food. Though they do put their modern twist on some dishes. The wines here are the standout offering. Although the list is small, they select some of the best local and French labels.
The Point Bar & Grill
Located right on the Swan River, The Point Bar & Grill is an awesome spot for drinks and fancy bar bites. The decor is sophisticated without feeling stuffy. And there are rooftop terraces with stunning views of the river.
The Point offers contemporary Australian cuisine and vast alcohol selections. They have quite a long list of wines, including Champagne, cocktails, and sherries. They've got beer, too, of course!
Maruzzella
In the mood for some Italian food? Maruzzella is new on the scene but has already become a go-to Italian restaurant in the area. This family-owned eatery served authentic Italian dishes passed down through the generations.
Anything on the menu makes a great choice for lunch or dinner but the star of the show is their Napoli-style pizza. It's made with homemade yeast, as well as tomatoes from San Marzano in Italy.
East Perth Cafés
Kinky Lizard Espresso Bar
Kinky Lizard is a coffeehouse that boasts some of the best breakfast, lunch, and coffee in the area. The atmosphere here is warm and cosy, with some outdoor seating beside the indoor area.
They've got a large, varied menu and everything is good! Consider trying the popcorn chicken benedict. The classic English breakfast, or the duck and noodle salad. Enjoy your meal with a cup of their house-blend coffee — a great way to start your day!
Wassup Dog
If the name didn't catch your attention, the food definitely will! Wassup Dog serves homemade, gourmet hot dogs and burgers. This quirky eatery started out as a hot dog cart and has evolved into a café/bistro.
Besides their hot dogs (which include vegan options). Wassup Dog also has an all-day breakfast menu. And a mouthwatering dessert menu, including cronuts!
Toast
Right on the edge of Claisebrook Cove, you'll find a lowkey yet amazing café. Toast is a great spot for a waterfront breakfast or lunch, with its cruisy decor and outdoor seating.
The star of the menu is, of course, their artisan toast. Available in a range of different types, though their sourdough is especially great. They also serve awesome toasties, crepes, omelettes, and more!
Accommodation
If you're from out of town and planning a trip, the first thing you'll need is a place to stay! East Perth has lots of accommodation options to choose from. You'll find that most are located on Adelaide Terrace.
Pan Pacific
For a five-star hotel experience, Pan Pacific Perth is one of your best options. This hotel has the most luxurious guest rooms and suites of all hotels in East Perth.
Pan Pacific houses four acclaimed restaurants, including the Peruvian restaurant UMA. On-site, you'll find a 24-hour gym and an outdoor heated pool, as well.
Hyatt Regency
Down the street from Pan Pacific, you'll find Hyatt Regency Perth. As a tried-and-true Hyatt hotel, you know you'll get the luxury you expect.
The hotel is located with great views of the Swan River. It has a whole host of amenities and services. There's a sauna, in-room spa services, an outdoor heated pool, and a tennis court. They also offer childcare and babysitting services!
Fraser Suites
Serviced apartments, or aparthotels, are growing in popularity. It makes sense; they combine the luxury of a hotel with the comfort of your own home!
Fraser Suites Perth is one of the most highly-rated aparthotels in East Perth. They offer contemporary one and two-bedroom suites with kitchens. There's also an on-site restaurant that's popular even with non-guests!
Quest East Perth
Another option in serviced apartments is Quest East Perth. This luxury aparthotel offers one and two-bedroom apartments. With kitchens and laundry facilities. They also have studios with kitchenettes.
There is no on-site restaurant, though this aparthotel is located near many eateries. Quest East Perth offers a pantry shopping service. This is where you can have groceries delivered right to your suite.
Perth City Backpackers Hostel
If hostels are more your style, East Perth has those too! Perth City Backpackers Hostel is very centrally located.
You can have a private room here or stay in a shared room of 4, 6, or 18 beds. There are secure storage lockers, a kitchen, laundry facilities, a private courtyard and all-day hot showers. They also offer free breakfast!
Downtown Backpackers
Located on Bennett Street. They offer a home away from home. With a kitchen, gathering rooms and safe spaces. On Wednesdays and Thursdays, everyone heads out for a few drinks.
Real Estate & Apartments
Is this area looking like somewhere you could call home? You're not alone in your thinking! It is one of the state's fastest-growing suburbs.
Buying and renting in Perth isn't cheap, though it is not as costly as other major urban centres in Australia. Nonetheless, prices have been increasing. As they have pretty much everywhere in Australia.
Properties don't stay on the market very long. If you see something that looks right for you. Make careful consideration but also prepare to act fast.
The process of deciding on a place and then actually buying/renting is tricky anywhere in the world. Realestate.com, REIWA, and The West Classifieds are great starting points.
Realestate.com and REIWA also each have a handy tool. This can show you current and historical median prices. This is helpful for both buying and renting, so you know what you should expect. They use different data sets so the prices don't exactly match up but they give you a good idea.
Getting Around
Public Transport
East Perth, and the city as a whole, has a very robust public transport system. Transperth is the entity in charge of all public transport services in the city.
Perth has a Free Transit Zone (FTZ) where all public transport is free. This zone includes East Perth! For venturing outside of the FTZ, you'll want to get a SmartRider card. You top it up with credit and can use it for all Transperth services. It's very convenient and cheap.
The train system has six train lines. There are two main train stations in the Perth area: the East Perth Train Station and the main Perth Station.
The CBD bus system is known as the Central Area Transit, so the buses are called CAT buses. Their designs live up to their name, as they often have cats painted onto the side! Both the yellow and red Cats service East Perth. The East Perth Bus Terminal is next to the East Perth Train Station.
Walking
Everything in East Perth is compact. The land is very flat, too — a perfect formula for a walkable suburb! This, combined with the CAT bus system means you won't need a car to see most sites. But if you do there are a few choices.
Car Rentals
Renting a car during your visit can make it much easier to get around the city and state. There are several car rental agencies in the area. With No Birds Bayswater and Aries Car Rental being two reputable ones.
Parking
Car parks and kerbside parking bays are all around. Most attract a fee between $4 and $25, depending on the time of day and how long you stay.
Some are free during certain hours. At the official City of Perth (CPP) car parks, parking is free after 6pm!
You can also get free on-street parking for an hour on Hay Street and Royal Street. All you need is to get a ticket from a ticket machine and display it on your dash. If you are visiting us during the week you will have to pay for parking on Wickham Street. On Saturday it is free!
Rideshare Services
Rideshare services make getting around East Perth a breeze! There are quite a few that operate in the city, including Uber, Ola, and Didi.
Schools & Daycares
Daycare & Early Learning
It won't be hard to find a good daycare or early learning centre in or around the area. Goodstart Early Learning is located in East Perth. While Buttercup Childcare is nearby in Highgate.
For an enriching option, consider Bilingual by Five, which teaches English and Mandarin! This is located in the City of Perth.
Schools
Although there are no primary schools. There are two well-known Catholic schools. The all-boys Trinity College and its sister school, Mercedes College. The latter is actually the oldest secondary school in Perth; it was founded in 1846!
For vocational and technical training, the North Metropolitan TAFE is your top choice. They offer many courses including business, hospitality, fashion, engineering, and everything in between!
Hospitals, Doctors, and Dentists
Royal Perth Hospital is one of the oldest hospitals in WA and it's located next to East Perth! It's an adult hospital with over 400 beds. Despite its age, the theatres are kept up-to-date.
As for paediatric hospitals, Perth Children's Hospital is the place to go. It is in Nedlands.
There are many general practitioners and quite a few medical clinics in the area. East Perth Medical Centre is in the heart of the suburb, with a focus on travel medicine. Central City Medical Centre is in the city but its services are more comprehensive.
For all your dental needs, there is a range of options. East Perth Dental Centre and Mendelsohn Dental Perth are a few options. On the western edge of East Perth is the Perth Central Dental Centre.
Services
Post Office
Expecting mail or want to send a postcard? The suburb has a dedicated Australia Post post office. This is the East Perth Post Shop on Hay Street.
Library
Students and book lovers rejoice. The City of Perth Library is the closest to the heart of town. Located right on the western edge of East Perth, along Hay Street. The Red CAT bus stops outside.
Gyms
Stadium Fitness and Fairgains are two of the best gyms in the area where you can workout on your own or with a trainer. Both offer transparent monthly fees rather than lock-in contracts.
If you'd like to learn boxing, wrestling, jiu-jitsu, or muay thai, Guardians Gym teaches all the above. Including kids' classes. For yoga and pilates (as well as coffee), head to Urban Om!
Sports Hire
You don't need your own sports gear to go on an adventure!
For biking trips, head over to About Bike Hire, located by the Swan River. There, you can rent electric bikes, off-road bikes, tandems, children's bikes, and more. You can also rent kayaks and stand-up paddleboards.
Hairdressers & Barbers
Whether you need a quick trim or a total makeover. Plenty of hair salons and barbershops will get the job done.
Fatty Arbuckles Hair Artistry & Lather Lounge on East Parade has been making sure the local residents look their best for over 20 years.
The newer Salon Republic on Hay Street offers plenty of services for both men and women. For a barbershop, East Perth Barber Shop on Bennett Street is one of the most popular with locals!
Government
The suburb is governed by two local governments: the City of Perth and the City of Vincent. Both also govern other suburbs in and around the central business district.
The City of Perth has eight councillors, one Lord Mayor, and one Deputy Lord Mayor. As of the time of writing (January 2023), the Lord Mayor of the City of Perth is Basil Zempilas.
The City of Vincent is set up very similarly to the City of Perth but with a Mayor instead of Lord Mayor and no deputy. As of January 2023, the Mayor of the City of Vincent is Emma Cole.
Community Groups
There are some community groups to support businesses and residents in the area. The East Perth Community Group (EPCG) helps with growth and development in the suburb.
East Perth Local has an active Facebook group. This caters to residents and businesses alike. And is run by the East Perth Community Group.
Redevelopments
Formerly an overly-industrial suburb riddled with urban blight. The area has become much more livable over the decades. The area's redevelopment is the largest inner-city redevelopment project in WA!
Most of the individual projects. Old and new, revolve around making the area greener, safer, and more community-focused.
Two major projects are the redevelopment of East Perth Power Station and Perth Girls' School. The Perth girls school will be located next to My Little Love Heart.
Power Station
East Perth Power Station powered the Perth Metropolitan Area from 1913 until its closure in the '80s. There have been talks of redeveloping the power station ever since.
Now, the plan is finally in motion to transform it into a "pedestrian-friendly precinct." It will have "residential, recreational, commercial, and tourism opportunities."
Work began in 2022, with clean-up and infrastructure relocation. This first phase is expected to end in 2024, after which new infrastructure can start to be built.
Perth Girls' School
Another heritage site that is expecting a facelift is Perth Girls' School. Quite a bit of progress has already been made. With restoration, planning, and excavation already done.
One major aspect of the redevelopment is residential. The finished project is expected to have over 700 apartments! The school building itself will contain commercial, office, and community spaces. This includes a supermarket, restaurants, and an art gallery.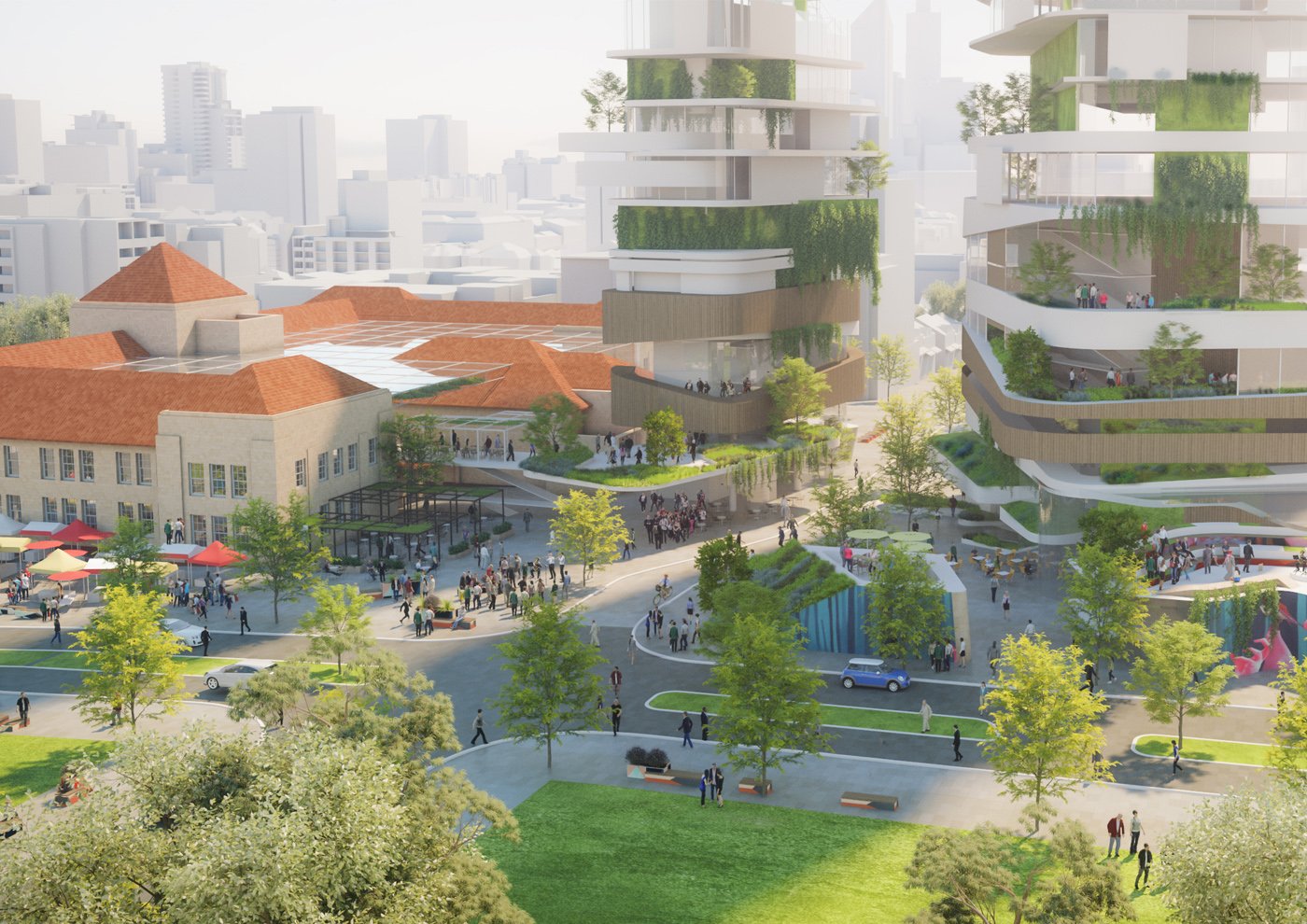 Sporting Teams
East Perth Football Club
Also known as the Royals, East Perth Football Club plays in the WAFL. And is currently based at the Leederville Oval.
It was formed in 1902 and was originally known as the Union Football Club. Including their first win in 1919, the club has won 17 premierships! As of the end of the 2022 season, their most recent one was in 2002.
East Perth Eagles
The East Perth Eagles are the local basketball club, playing in the NBL1 West. They are based out of the Herb Graham Recreation Centre.
After its founding in 1989, the club struggled for two decades. Everything began to turn around in the 2010s. At first, the women's team and then the men's team started setting winning records. In 2014, the Eagles men's team won the club's first championship!
I hope this article has helped you navigate around East Perth. If you have any questions or feel like we have missed an important service, please get in touch.
This article was written by Jacqueline Samaroo. Jacqueline is a mother of 3 and a trained teacher with almost two decades of teaching experience under her belt. She has been operating professionally as a freelance writer for over eight years. During this time, she has written on a wide array of lifestyle themes.
The article has been peer-reviewed by Luisa Figueroa who is a mother of one and owner of My Little Love Heart.