Show the mum's-to-be how much you care by buying handmade baby shower gifts. Here we will showcase some of our homemade gender-neutral, girls and boys' baby shower presents.
Gender-neutral and Unisex
At the time of the baby shower the parents-to-be might not know the gender of the baby. Therefore it is best to buy a unisex baby shower gift. Here is a selection of our handmade range that are gender-neutral.
Girl
If the parents-to-be have shared the gender of the baby with you, buying a baby shower gift will be easier. Here is our selection of handmade girl's hampers.
Boy
Shopping for a baby boy can be a little harder. This is why we have included a selection of prints specifically for a handmade baby shower gift box for boys. Some of these can be found below.
What's included In our handcrafted baby shower sets
It all depends on which style you choose. But you will find an array of products including various bibs, burping cloths, teethers, nursing pads and hair accessories. They come beautifully gift-wrapped and with a card which we can write in for you.
Benefits of a Handmade Baby Shower Gift Basket
There are many benefits to giving a handcrafted gift for a baby shower. These include;
Made with Love and Care – The recipient will know it's been made with love and care.
Supporting Small – When gifting a homemade item for a baby shower you are supporting small businesses.
Higher Quality – Handmade products are made to a higher quality. Which is especially important when buying for a baby shower.
Original – It's guaranteed that when arriving at the baby shower you will have an original and unique gift. Not something that has been mass-produced overseas.
Keepsake – Being a handmade gift will mean more to the recipient. And will be more likely to be kept as a keepsake once it's finished being used.
Looks Better – There is something about how homemade items look. The attention to detail, the traditions of craftsmanship and the overall presentation. And when the product is for a baby shower it makes it extra special.
Customisation – Handmade items can be customised. We have had people come to our shop and request the gift for the baby shower to be made with a specific fabric. Which we were able to do.
Environmental Impact – Handcrafted items don't need large industrial-scale machinery to produce the item. And the maker has more say in the materials used during the manufacturing processes. Therefore your present for the baby shower will be organic and energy efficient.
How to wrap them
All our gift sets come beautifully gift-wrapped and with a card. But if you are buying a different handmade gift here are some suggestions on wrapping the baby shower present.
Online, In-Store and delivery
You can order these gift boxes online, or in-store or we can deliver. We have a gift shop in East Perth where you can come and see the products being made and choose the perfect set or build your own.
If you have any questions about our range of homemade baby show presents please contact me.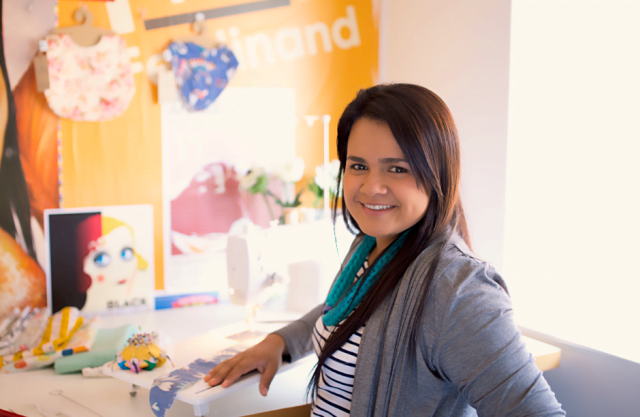 This article was written by Luisa Figueroa — I am the owner, designer, and maker of the My Little Love Heart range of handmade baby presents and accessories and am a mum to a beautiful daughter Natalia.