If you are looking for a selection of baby chino cups in Perth we have you covered. Shop online below or visit us in-store at 17 Wickham Street, East Perth.
Our current range of Babychino cups in Perth
We are always updating our range with our current availability above. While below is the complete range of reusable baby cino cups we stock.
Country in Blue – This is an indigenous aboriginal print in a variety of blues. It is perfect for any little boy who loves their babychinos and an ideal gift for an Australiana themed present.
Country in Pink – We stock the pink print in our East Perth shop too. This reusable cup has beautiful indigenous pink artwork that is ideal for a little girl.
Daisy – The white and yellow daisy flowers stand out on the light green backing on this baby chino cup. All these cups are made from bamboo making them eco-friendly and sustainable.
Dino-mite – The dinosaur print cup is the perfect toddler gift. And is the perfect addition to any dinosaur-themed baby present.
Bananas – The banana-themed baby chino cup has bright yellow bananas on a light purple background. These would be an ideal stand-alone gift or you could include it with our banana themed hamper.
Marsh Mellow – One of our favourite designs, the marshmallow print has a light blue background with fluffy white and pink marshmallow scatters all over.
Truck That – Ideal for giving to someone who has a baby in the Pilbara. Or any little boy for that matter. The truck that print has a variety of different coloured trucks and cranes that are scattered over the cream background.
Life's a Beach – The life's a beach print is ideal for those who love surfing, the coast, and water in general. If you live in the south west this would be a perfect gift for a little girl or boy.
Wild Things – This print has a white background with little coffee beans pictured all over it. The perfect accessory to match with mum or dad's cappuccino.
Seas the Day – Another one for the surfers. This cup is a beautiful summer print with lots of little surfers all over it. It is a unisex design so perfect for any boy or girl
What comes with the reusable cup
Each reusable cup is made from bamboo and comes complete with a silicone lid and straw.
Delivery, Online or In-store
We stock a variety of these baby chino cups in our East Perth store. Or alternatively, if you are in Perth drop in and see us. We do ship throughout Australia and worldwide so you can place your order online and we will send it to you. And the indigenous print baby chino cups make the perfect Australian gift to send overseas.
If you have any questions regarding the reusable babychino cups in Perth please contact us.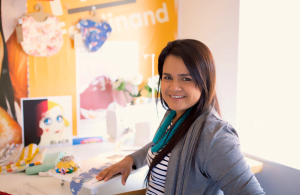 This article was written by Luisa Figueroa, she is the owner of the My Little Love Heart baby shop.