Our swaddles in Perth are stylish, and practical and come in a variety of colours and prints. These can be brought online or in-store.
Brands of Swaddles we stock in our Perth Store
We offer two brands of swaddles in our shop in East Perth. They are;
My Little Love Heart
These are solid colour swaddles that we handmake ourselves in our East Perth gift store. They are made from 96% muslin with 4% stretch. These measure 120cm x 120cm. They are available in Mint, Burnt Orange, Grey and Plush.
Our brand of swaddle is;
Made from hypoallergenic fabric.
Thermal regulating and Insulating.
Versatile and can be used for many applications.
Easy to care for and maintain.
Smitten Bub Co.
These are an imported swaddle and measure 120cm x 120cm. They are made from 70% Bamboo and 30% Cotton. The Smitten Bub Co swaddles are;
Light, strong and breathable
Hypoallergenic, making it free from allergens, dust mites, and bacteria
Thermal regulating and insulating
Versatile
Easy to care for
We stock a variety of prints from this brand in our East Perth shop. The prints are;
Vintage Floral – This floral print is a beautiful standalone gift or can be added to one of our baby girl hampers.
Eucalyptus – A simple but elegant print. We include this in many of our Australiana-themed baby boxes but it can also be brought individually from our Perth shop or added to any unisex gift sets.
Safari – The safari print swaddle is a beautiful print with a variety of animals roaming over the fabric. This would be the perfect addition to this Safari baby gift set.
Delivery, Online or In-Store
All of these swaddles can be ordered online and we can organise delivery. Or alternatively visit us at 17 Wickham Street, East Perth
Additional Resources
If you would like to know more about swaddling we have a detailed resource on swaddles. And if you would like to know how to swaddle your baby see this video below.
If you have any questions relating to swaddles or swaddles please contact me or drop into our Perth shop and we can assist.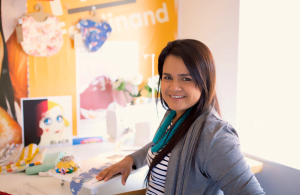 This article was written by Luisa Figueroa. She is the maker of the My Little Love Heart range of swaddles, gifts and baby accessories.