Our baby gifts for clients are the perfect way to congratulate a customer on the new arrival of their baby.
When choosing a baby gift for clients it is imperative to give a present that the recipient will love and remember. It's a way for your company to establish an even deeper connection with the client and ensure that you have a fruitful and long-term business relationship.
What should you look for in a baby hamper for a client?
There are a few things that you should look for when buying a client a baby hamper. These are;
Quality – Remember this gift is an extension of your company so the products need to be high quality. The last thing you want is for it to break on the first use. Otherwise, your client will remember your business as the company that gave the poor quality gift, therefore associating you with inferior products.
Long Lasting – Some of the products in the gift box should be long-lasting. Imagine two years down the track when the recipient meets up with the mothers' group and they all ask where did they get the bib from. And they can proudly say it was a gift from your company.
Practical – The hamper should be practical and contain useful items. You will want your clients to remember your business every time they use the burp cloth, bib or teether. It's no use giving a present unless it's practical otherwise it will be received, put away and forgotten about.
Stylish – A stylish gift will be the talk of the office and everyone will soon be aware of your company. People will ask who gave that gift and will proudly mention your company.
Unique and Original – Don't be the company that sends a nappy cake. They are unoriginal and a little tacky. The recipient will appreciate a unique and original baby hamper.
These are just of the things to consider when buying a baby gift box for a client. We also have an article on how to choose the perfect baby gift if you are looking for more tips.
How much should you spend on a client's newborn present?
When buying a newborn gift for your client you should expect to spend a reasonable amount. But you should consider how much they spend with you as a customer first. For instance, if they only spend a few thousand dollars a year you could buy a gift under $50. With a client spending tens of thousands you should look at hampers under $100. In comparison, your clients who spend hundreds of thousands of dollars should get a better present. For these we recommend looking at the baby hampers under $150. And if you have clients that are spending in the millions start with the gift boxes under $250.
When should you give the hamper?
We would recommend waiting at least a week before sending the gift set. This way the baby and parents should be discharged from the hospital and there are no complications.
Do you send it to the home or office?
If you are ordering your gift hamper online you will have to send it to the office or their home. Where you send it will depend on the information you have. But we recommend that it be sent to the office. This way there is no suggestion of hidden gifts that could get the client in trouble. It also gives the recipient a great opportunity to show off the new baby when collecting the present.
Can the client accept the baby hamper?
Before sending the client a baby hamper make sure they can accept it. Many companies have strict rules about the value of the gifts they can receive. The terms of employment may be in jeopardy if they accept your gift that's against their company policy.
We hope this article has helped you choose a suitable baby hamper for a client. Remember this is a valuable marketing tool, but also a personal congratulations to the new parents.
If you have any questions on these or any of our corporate gift hampers please contact us.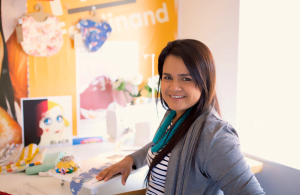 Luisa Figueroa is the owner, designer and maker of the My Little Love Heart range of baby hampers.