Our baby gifts under $50 are stylish and practical and come in a range of configurations to suit any baby celebration.
Above you will find our gift boxes that are under $50 while below we discuss. The occasions and suggestions on what to buy and when to spend under $50 on a baby present.
Occasions to spend $50 on a baby hamper
Depending on the relationship with the soon-to-be parents, $50 is the perfect amount to spend on a baby present. These occasions are;
Gender Reveal – This is the celebration where the parents reveal the gender of the baby. It's customary to bring a small gender reveal present to this party.
Baby Shower – Baby showers can be a huge event, but it doesn't have to be. Spending under $50 on a present for a baby shower is acceptable, especially if you aren't close with the parents-to-be.
Celebrating a Newborn – Buying a small newborn present is acceptable, especially if you have already brought a previous gift for the baby. And there are lots of choices under $50.
Baby gift ideas under $50
You may not want to buy a pre-made hamper so we have included some gift ideas that are under $50 below.
Bibs – One of the most practical gifts you can give is bibs. They will be used regularly and
Burp Cloths – This is a versatile product that can be used to protect you and your baby's clothes when feeding. It can be used as a feeding cover and a changing mat. For under $50, you can buy a couple of good quality burping cloths.
Teethers – Teething time can be terrible for both the parents and baby alike. Therefore buying a Teether or two is a great affordable baby present.
Swaddles – Another practical product is a swaddle. This will be used daily in the first three months and as a light blanket as the baby gets older.
Feeding Accessories – As babies get older you will need some feeding accessories. We recommend silicone types as they are easy to clean. And for $50 you will be able to get a nice selection.
Journals and Diaries – These gifts are perfect for the new parents to be able to record all of the baby's milestones. They make for ideal keepsakes and are always warmly received.
This article is for baby presents under $50 but you might want to spend a little more. If this is the case we have a range of baby gifts under $100 which you may want to review.
We hope this article has been helpful and if you have any questions please contact us.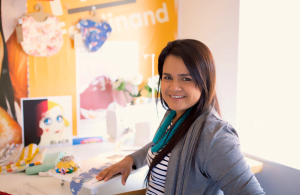 This article was written by Luisa Figueroa. She is the owner, designer, and maker of the My Little Love Heart range of gifts.