We are proud of our range of Australian made baby gifts. Shop our selection of practical and unique Australian baby gifts above or read our blog below for further information.
As a small Australian business, we pride ourselves on making the majority of our products from our studio based here in Perth, Australia. We are always making sure that our products are made with the most eco-friendly and highest quality materials we can find. This is to ensure that the babies who wear our products are using a premium product from the first moments of their lives.
This is also the same when choosing our range of prints to adorn our products. We are constantly looking for beautiful prints that are perfect for a little baby boy, girl, or unisex print for those who love surprises. We have been lucky enough to source some gorgeous Australian-themed prints which we can make into baby gifts.
Australian Made Baby Products – Australian Made Licensee
As you can imagine there are a large number of baby gifts available in Australia so why would you choose a My Little Love Heart product. Well, our Australian themed baby gifts are handmade in Perth, Australia. Each item is made by me and checked for quality before being sent to our customers.
Last year we became a licensee of the Australian Made Campaign. To become a member you have to demonstrate that your products are in fact made in Australia. We thought that it's useful for consumers to know that we have the backing of an independent organisation on the authenticity of our products. We are extremely proud to be an Australian company that makes our products here and supporting small and local businesses. Small business is the backbone of the economy and where possible we support other Australian made businesses.
We currently have four Australia-themed baby gift prints in our range. These include the koalas, kangaroos, floral gum nuts, and eucalyptus prints. We are always looking to add more to our shop and we have a few beautiful prints coming up shortly. In the meantime, our current prints are the;
Koala Print
A beautiful light grey background complete with a little koala who is either holding on with a big smile or lazing around sleeping. Its pink ears bring some colour to the print along with the gorgeous greens and browns of the Eucalyptus tree.
Kangaroo Print
The kangaroo animals print has a bit more of an indigenous feel to it with lots of kangaroos jumping along in a straight line. I love the simplicity of this print and the lavender colour used as the background while the kangaroo's form is made using small circles and shapes. We have a selection of Australian gifts in this print suitable for babies.
Eucalyptus Print
Our final print is "Eucalyptus" which is for the flora lovers. Living in Perth, we are lucky to have Kings Park, one of the most beautiful parks in the world at our doorstep. Here you will be able to find an abundance of Eucalyptus trees not dissimilar to this print. I adore the different shades of greens used and the brown gum nuts make the design stand out.
As you can see these three prints are beautiful, however who would these suit?
Living Overseas
If you are living overseas and looking for a little bit of Australia to give to your new-found friends when they have their newborn babies you can't go past one of our Australian made gifts. It would be amazing for them to receive a baby present that has been designed and hand made in Australia complete with a unique Australiana print. This, coupled with the knowledge that it has been made in Australia and is of premium quality will not be lost on the recipient. Whether it is the Eucalyptus, kangaroo or koala print they will remember these gifts from Australia and their Australian friends.
Should you be living overseas and your loved ones or friends are having a baby here in Australia we can help you out. In addition to our Australiana designs, we have a selection of gifts that would be perfect for any baby boy or girl. Shop our online store for our complete range of products.
Guests from overseas
If you are like us, and you have a steady stream of visitors coming in from overseas to visit you, they like to take home Australian souvenirs with them. Most of the time our overseas guests have babies or know someone back home with babies. Our baby gifts are perfect for you to take home as Australian souvenirs for a baby or their parents.
As we have stockists throughout Australia it will be easy to get your hands on one of our products however we recommend that ordering online would be the preferred method. This is because not every stockist holds all the Australiana designs in each product.
Sending baby gifts from Australia to an overseas loved one
You may reside here in Australia however would like to send gifts from Australia to friends or family members that have a baby overseas. We can help you out by packing and sending our unique Australian baby gifts overseas. Knowing they are handmade in Australia you can guarantee they will be of premium quality and the recipient will love our animal and floral prints.
We can handle everything for you from writing in the card to tracking the parcel to delivery so all you have to do is sit at home and take the credit. We love the thoughts that people are buying Australian baby gifts to send overseas so they can see the quality of our products and share them with the world.
So when you are searching for Australian Made baby gifts online we have a huge selection to choose from. For those who are visiting Australia from overseas, this is the perfect time to buy a genuine, handmade, Australian souvenirs.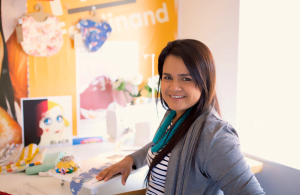 This article was written by Luisa Figueroa. I am the owner, designer and maker of the My Little Love Heart range of baby products. I am a mum to a beautiful daughter and have been working within the fashion industry for over 15 years and specialising in baby accessories for the last 5. My love of fashion has enabled me to work and study around the world.