Lockdowns and quarantines seem to be a thing of the past. However being pregnant, you may feel uneasy being around others so we have put together a guide on how you can host a virtual or online baby shower.
What is a virtual baby shower?
A virtual or online baby shower is where you celebrate the upcoming birth of a baby online rather than in person. People are able to log in from all around the world. And participate in games and watch the presents being opened.
Benefits and Disadvantages
There are both benefits and disadvantages to having this type of celebration. These are;
Benefits
Cheaper — This will be cheaper as you won't have to hire a venue, provide food, or have lots of decorations.
Invite friends from around the world — It can be a truly international party, with friends and family login in from anywhere in the world.
Safer — The pregnant mum to be wont be exposed to colds, flu or viruses that are circulating at the time. They will remain in the safety of their own home.
More Comfortable — The guests and mum-to-be won't have to stand for hours on end. They can all celebrate in the comfort of their own homes.
Disadvantages
Not Personal — The best thing about baby showers is meeting new people and spending time with loved ones. An online baby shower doesn't have everyone behind screens, losing that personal touch.
Organised — You have to be extremely organised to hold an online baby shower. This includes sending out the invites and goodie bags. These have to be sent out in advance so they will get to everyone in time. And you won't have the opportunity to run down to the shops for those last-minute games.
Invitations
Invitations to your virtual baby shower can be done via post or email. A great e-invite solution is a paperless post.
Just like any normal baby shower, it's best to schedule a date and time that will suit as many people as possible. You will be able to invite friends and family from around the world. And we recommend inviting no more than 30. Otherwise, your screen can be full and chaotic. With everyone talking at the same time. On the invite make sure you ask everyone to RSVP. This way you know how many care packages you will need to send out.
Virtual Venue
No need to book a hall or premises as you have everything you need at your fingertips. There is a large selection of cyber venues to choose from which include Skype, Zoom, Google Hangouts, and Facebook. Choose the one you are most comfortable using as you may have to train a few people on the ins and outs of the chosen software. The best thing about the virtual venue is that clean-up is minimal.
Care package
If possible, plan well in advance and send the guests a care package with everything they will need. This can be everything from materials they will need to play the games, basic decorations or a thank you for coming gift. If you are running short of time you may need to compile a list and email through with the e-invite.
Gift Registry
One of the most exciting things about celebrating an upcoming baby is buying a baby shower gift. And the online celebration doesn't have to be any different. You can even set up a gift registry.
When buying a gift we suggest purchasing from the register. However, if there isn't one we have an article on our 17 most practical baby shower gifts that will help you choose.
How much you spend on a present will be based on your relationship with the parents-to-be. But work on a figure of between $40 and $70. If you are posting your gift make sure it arrives in plenty of time. And wrap the present to the mum-to-be can open it on cam with everyone.
We also have many resources to help answer all your gift questions. If you are still struggling for ideas we have many options of presents you can buy online. These our large range of Australian Made sets, mum and baby hampers, and gender-neutral baby boxes.
Decoration
If you decide to send a care package to your guests, you may want to include some decorations. The bonus of an online party is that you don't have to decorate an entire room, just the area directly in front of the camera. Something like bunting for the nursery is perfect for this.
Online Baby Shower Games
Whether it is physical or virtual, a baby shower isn't complete without games. We have outlined some games which you could play virtually. These include:
Guess the lollies in the jar — Always a crowd-pleaser, the lollies in a jar is a great icebreaker and easy to do. Everyone guesses how many lollies are in the jar and the closest to the number is the winner. At the end of the party announce who won and post the prize to the winner.
Don't say "Baby" — This is self-explanatory although easier to do with a room full of people. The first person to notice the word "baby" spoken will get a point. The guest with the most points will be crowned the winner and a gift sent to them.
Quizzes — Everyone loves a good quiz so test their knowledge about you, your partner, and your pregnancy. If you are struggling for ideas Pinterest is a great place for inspiration and has many questions you may wish to add. Some questions to get you started could be;
– Where were you when you found out that you were pregnant?
– Would you prefer to have a boy or a girl?
– What will the baby be when they grow up?
– If the baby can have one feature from you what will it be?
– Who will get up in the middle of the night to feed the baby?
– Who will change the baby's nappy?
Baby "Price is Right" — One of the most famous game shows of all time is "Price is Right". And can easily be adapted into a virtual game show. Start off by choosing one item. The two guests who are closest then estimate the prices of a variety of products and put them in order from cheapest to most expensive. The person closest will receive a prize. Some ideas for products can be a dummy, nappies, wipes, toys for teething, swaddles, headbands, and a pram.
Baby items in the bag — Similar to the price is right, put a variety of items in a nappy bag and have everyone try to guess the total value. Once again, the person whose guess is closest wins a prize. Some ideas to put in the bag are a drool bib, bath toys, Sudocrem, and burp cloths.
Guess the mum-to-be measurements — An oldie but a goodie, everyone on the video link gets to guess the belly size of the mum-to-be and the winner gets a prize!
Embarrassing baby stories from their childhood — For those who want more audience participation, ask everyone for their most embarrassing baby stories.
Baby songs — Who can name the most songs with "baby" in the lyrics? I'll go first, "Baby-Justin Bieber" and "Baby one more time-Britney Spears".
Baby-related Charades — Everyone can be involved when it comes to charades but make sure they are baby related. You could use some of the song ideas that are suggested above or other well-known sayings like "Don't throw the baby out with the bathwater"
Words of wisdom from Mums — For all the mums on the call you can use their expertise and experience. Have all the mums give their top three pieces of advice on being a parent. Then everyone votes on the best idea with the winner receiving a prize.
Love letters — My personal favourite, have all the guests write a small note to you and have them post it. Anything from giving advice, to good wishes for you or to your new baby. You could add them to your baby record book as a beautiful keepsake.
Opening Gifts
When it comes to opening the presents this will be the choice of the recipient, after all, they are the mum-to-be. They may want to open these by themselves without the online audience or choose to open them while everyone is in attendance.
Finally, enjoy yourself. You will be able to look back on this day with fond memories and remember how it was such a unique time. Since you can record the whole thing you will be able to relive this as many times as you like.
Finishing
Once you have opened the presents you can play more games or just have a general chat. An online baby shower will last for around 2 hours, depending on how many people you invite.
We hope this article has been of assistance. If you have any questions please feel free to contact me.
This article has been updated in May 2023 to remove Covid information and include the benefits, disadvantages, length and other sections on online baby showers.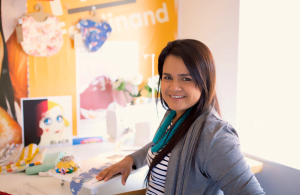 Luisa Figueroa – Designer Profile – Owner, designer, and maker of the My Little Love Heart range of baby products. I have been working within the fashion industry for over 15 years and specialising in baby accessories for the last 5. My love of fashion has enabled me to work and study around the world.