With the recent outbreak of the coronavirus disease (COVID-19), people have used their imaginations to continue to acknowledge the special moments in their lives. One of the most important celebrations is being pregnant. Unfortunately, during this pandemic, many countries are in lockdown or under quarantine. Current in Australia, there are recommendations to social distance and not gather in large numbers. Being pregnant, you may feel uneasy being around others so we have put together a guide on how you can hold a virtual or online baby shower.
What is a virtual baby shower
A cyber baby shower is where you celebrate the upcoming birth of a baby. This would take place online rather than in person. People are able to log in to the online baby shower from all around the world. They can participate in games and watch the presents being opened and celebrate with the expectant mum to be.
Set the time and date by e-invites
Just like any normal baby shower, it's best to schedule a date and time that will suit as many people as possible. You will be able to invite friends and family from around the world. A great e-invite solution is a paperless post.
Virtual Venue
No need to book a hall or premises for your baby shower venue as you have everything you need at your fingertips. There is a large selection of cyber venues to choose from which include Skype, Zoom, Google Hangouts, and Facebook. Choose the one you are most comfortable using as you may have to train a few people on the ins and outs of the chosen software. The best thing about the virtual venue is that clean-up is minimal.
Care package
If possible, plan well in advance send the guests a care package with everything they need for the quarantine baby shower. This can be everything from materials they will need to play the games, basic decorations or a thank you for coming gift. If you are running short of time you may need to compile a list and email through with the e-invite.
Gift registry and shopping ideas
One of the most exciting things about celebrating a baby shower is buying a baby shower gift for the mum to be. This shower doesn't have to be any different and with a variety of online baby shops throughout Australia, there is something for everyone! You may want to purchase a baby gift card or set up a gift registry. When it comes to online shopping your choices are endless. To help we have listed our 17 most practical baby shower gifts.
Decoration
If you do decide to send a care package to your guests, you may want to include some decorations. The big bonus about having the baby shower online is that you don't have to decorate an entire room, just the area directly in front of the camera. If you are the host and if it is your baby shower feel free to splurge!
Games
Whether it is at a physical or virtual venue a baby shower isn't a baby shower without the games. We have outlined some baby shower games which you could play virtually.
Guess the lollies in the jar – Always a crowd-pleaser, the lollies in a jar is a great icebreaker and easy to do. At the end of the party announce who was closest and post the prize to the winner.
Don't say "Baby" – This is self-explanatory although easier to do with a room full of people. The first person to notice the word "baby" spoken will get a point. The guest with the most points will be crowned the winner and a gift on the way. Normally this is done with safety pins however this can easily be adapted to an online environment.
Quizzes – Everyone loves a good quiz so let's test their knowledge about you, your partner, and your pregnancy. If you are struggling for ideas Pinterest is a great place for inspiration and has many questions you may wish to add. Some questions to get you started would be;

Where were you when you found out that you were pregnant?
Would you prefer to have a boy or a girl?
What will the baby be when they grow up?
If the baby can have one feature from you what will it be?
Who will get up in the middle of the night to feed the baby?
Who will change the baby's nappy?

 Baby "Price is Right" – One of the most famous game shows of all time, the "Price is Right" can easily be adapted into a virtual game show. Start off by choosing one item, i.e. a nappy bag, and have everyone guess the price. The two guests who are closest then has to guess the prices of a variety of products and put them in order from cheapest to most expensive. The person closest will receive a prize. Some ideas for products can be a dummy, nappies, wipes, natural teether toy, swaddles, headbands, and a pram.
Baby items in the bag – Similar to the price is right, put a variety of items in a nappy bag and have everyone guess the total value. Once again, the person who's guess is closest wins a prize. Some ideas to put in the bag are a dribble bib, bath toys, Sudocrem, and burp cloths. If you are stuck for suggestions, read our baby shopping list for more ideas.

Guess the mum to be measurements – An oldie but a goodie, everyone on the video link gets to guess the mum to be belly size and the winner gets a prize!

Embarrassing baby stories from their childhood – For those who want to have a lot more audience participation, ask everyone for their most embarrassing baby stories.

Baby songs – Who can name the most songs with "baby" in the lyrics. I'll go first, "Baby-Justin Bieber" and "Baby one more time-Britney Spears".

Baby related Charades – Everyone can be involved when it comes to charades but make sure they are baby related. You could use some of the song ideas that are suggested above or other well-known sayings like "don't throw the baby out with the bathwater"

Words of wisdom from Mums – For all the mums on the call you can use their expertise and experience. Have all the mums give their top three advice on being a parent, then everyone votes on the best idea with the winner receiving a prize.

Love letters – My personal favourite, have all the guests write a small note to you and have them post it. Anything from giving advice, to good wishes for you or to your new baby. You could add them to your baby record book as a beautiful keepsake.
Opening of the presents
When it comes to opening the baby shower presents this will be the choice of the recipient, after all, they are the mum to be. They may want to open these by themselves without the online audience or choose to open them while everyone in attendance. After all, if everyone is in quarantine the virtual guests may really enjoy the company of others and love the idea of seeing what other people have gifted.
Finally, enjoy yourself. You will be able to look back on this day with fond memories and remember how it was such a unique time. Since you can record the whole online baby shower you will be able to relive this as many times as you like.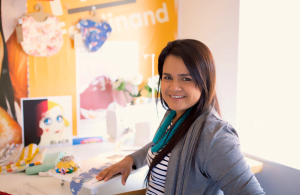 Luisa Figueroa – Designer Profile – Owner, designer, and maker of the My Little Love Heart range of baby products. I have been working within the fashion industry for over 15 years and specialising in baby accessories for the last 5. My love of fashion has enabled me to work and study around the world.