We care about the environment. This is why we make sure items included in our organic baby hampers are eco-friendly.
Each item is made at our East Perth baby gift shop using materials that are organic and sustainable. Ensuring your gift is as natural as possible. Here are the organic baby gifts we offer. Below is also a breakdown of the items in each set and what materials they are made from.
Newborn Organic Gift Sets
These smaller sets come with a bandana bib, teether, and card. All packed in a recycled kraft cardboard box.
Organic Baby Boy Gifts
The boys set comes with a burp cloth, teether, dribble bib, baby bib and card. We use cotton, bamboo and beech wood to make these items. This also comes in a recycled cardboard gift box.
Organic Baby Girl Gifts
Included in our organic baby girl gifts is a bandana bib, baby bib, teether, burp cloth and headband.
Deluxe Hamper
The deluxe gift set is our premium gift set. It is ideal as a baby shower hamper or a maternity leave gift. This set includes a journal, dummy, teether, burping cloth, bandana bib, and dummy chain. All come with a greeting card and gift wrapped. Businesses are always trying to improve their environmental footprint. So if your company is buying a corporate baby gift make sure it's organic.
Build your own baby hamper
Another alternative is to build your own baby hamper. You can select a range of products and at checkout mention it's for a gift. We will gift-wrap, write in the card and have it delivered.
Products included in our natural baby gifts
We have selected materials that are eco friendly and sustainable. It is important for you to know exactly what is going into each of our products. Here is a breakdown of each item;
Bunny Teether Toy  — The bunny teether is the ideal toy to give to your baby when they are teething. It's made with a cotton fabric front and bamboo back while the ring is natural beech wood and is coated with organic beeswax.
Bandana Bib — The bandana style bib is a stylish yet practical bib. The front is cotton that is designed with pleats to capture excess drool. The backing used is an eco-friendly bamboo material that absorbs moisture.
Baby Bib — All our bibs, including the baby bib, are made with a natural cotton material and bamboo backing.
Burp Cloth – Like all our bibs, the burp cloth has a printed cotton front and bamboo backing. The bamboo material is a natural product and soft on the babies skin.
Natursutten Dummy — The Natursutten dummy is made from 100% natural rubber. This ensures that the dummy your baby puts in their mouth is as natural as it comes.
Dummy Chain —Made with quality silicone beads with beech hardwood accent beads. The dummy clips are finished in a blend of certified organic beeswax and olive oil.
Record Book — The baby record book is the ideal place for you to record all the memories of your babies development. It's made with a luxury linen hardcover and 120gsm paper stock internal pages.
Card — We offer a selection of three cards to go with the eco baby gifts. These are the baby shower, baby boy and baby girl cards. Each is 135 x 135 mm and printed on 330 gsm linen paper. They also come with a 150gsm Kraft brown recycled paper envelope.
Gift Box — The gift box we use is a slimline A5 box with a separate lid and is made from recycled paperboard. It measures 235mm x 167mm x 50cm.
Tages – All our swing tags on our products are made from recycled card.
Materials uses in our eco-friendly baby gifts
Cotton Fabric — Natural fibres are free of chemicals, breathable, and do not irritate the skin. Cotton is sustainable, renewable, and biodegradable making it the perfect choice for fabrics.
Bamboo Backing — Bamboo grows rapidly and is carbon neutral. It can grow in a wide range of environments. Bamboo is grown without pesticides and requires no irrigation. We use bamboo on the backing of many of our products as it is natural and soft to touch.
Natural beach wood — We use a natural beach wood teether. It's a durable material that's non-toxic, chewable and resistant to mould.
Certified organic beeswax — Beeswax is produced as the by-product of the worker bee and helps with swelling and ulcers. The beeswax is used to coat both the dummy chain and the teething ring.
Natural Rubber — The Natursutten rubber dummies are made from 100% natural rubber. It's an ideal material to use as it has little impact on the environment. Especially during harvesting, manufacturing and recycling. It also has high resilience, strength, and is tear-resistant.
Silicon beads — Silica beads are made from silica that can be found in sands. The benefits of using silicon in the dummy chain are that it can be recycled and it's a hard and long-lasting product.
Gift Box — Our gift boxes are practical, stylish and eco friendly and have been made from recovered paper. This way you will not only be getting a beautiful gift but you will be helping the environment.
Australian Handmade
Each fabric item is handmade in Perth, Australia. We have a small baby shop in East Perth where we cut, sew and finish each product by hand. Our organic baby hampers are made in Australia and we are a licensee of the Australian Made campaign. We love to support other Australian businesses. We do this by purchasing materials from Perth and Australian suppliers.
Delivery
We are a small boutique brand in Perth, Australia, but, we can deliver around the world. We are happy to deliver to residential and business addresses. But our preference is not to deliver to hospitals. This is because our products are handmade and can take up to 5 days to make. This could mean the new parents may have left before receiving their hamper. For more information on our delivery times please refer to our shipping policy.
We hope this has been useful. If you have any questions please feel free to contact me.
Note: This post was originally published by Luisa Figueroa on the 6th March 2018. It has been updated on 16th February 2022.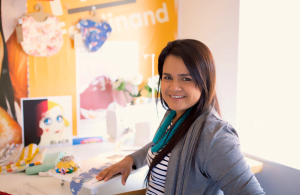 Written by Luisa Figueroa – Owner, designer and maker of the My Little Love Heart range of baby products. I am a mum to a beautiful daughter. I have been working within the fashion industry for over 15 years and specialising in baby accessories for the last 5. My love of fashion has enabled me to work and study around the world.