We are a small business that cares about the environment. We have hand picked which products are added to our organic baby hampers. Below is more information on these sets and what materials and packaging we use. All to ensure the gift you are giving is as organic as possible.
Recycled packaging and card
Our packaging and promotional materials are environmentally friendly. The product tags, greeting cards and gift boxes are made with a 100% recycled card.
Australian Handmade Organic Baby Hampers
Each fabric item is handmade in Perth, Australia. We have a small studio based in East Perth where we cut, sew and finish each product by hand. Our organic baby hampers are made in Australia and we are a licensee of the Australian Made campaign.
We love to support other Australian businesses. We do this by purchasing materials from Perth and Australian suppliers.
Organic and Environmental friendly Materials
One of the favourite parts of my job is to source fabrics. I am always on the lookout to find prints that are stylish and on-trend. This ensures that the products in the hampers are unique and original. When choosing materials we select

environmentally

friendly materials.
The backing on our products is a bamboo and cotton mix. This is a great product to use as it's quick-growing. It is also abundant and requires very little extra watering. As a material, it is absorbent and ideal for soaking up babies drool.
Quality and Practical Hampers
We understand that giving a hamper is a personal experience. This is why our organic baby hampers use the highest quality products. Each item is also selected for its practicality. The items included in our organic baby gifts sets will be used in the first three months.
Hampers style
We have 4 styles of organic baby gift sets to choose from. These are;
Newborn Baby Hampers
The newborn gift sets are the smallest in size and contain a bandana bib and bunny teether. They come complete with a choice of cards and a recycled cardboard gift box. This is a simple, elegant gift that is not only practical but unique.
Baby boys and girls hampers
With a selection of unisex, boys and girls prints, we have a style for everyone. These sets are larger than the newborn style and are a mid-price range hamper. For more information explore our baby boys and baby girl range.
Hampers for the expectant work colleagues
The deluxe gift set has been designed as a joint present and is perfect for a maternity leave gift. This set has a range of items that are ideal for new parents. These include a journal, dummy, bunny teether, burping cloth, bandana bib, and dummy chain. All coming with a greeting card and gift wrapped. These days companies are always trying to improve their environmental footprint. So if your company is buying a corporate baby gift make sure it's organic.
Build your own baby hamper
Another alternative is to build your own baby hamper. You can make your own gift sets by combining products as you wish. At the online checkout mention that you would like this gift wrapped and we will take care of the rest.
Delivery
We are a small boutique brand in Perth, Australia, but, we can deliver around the world. We are happy to deliver to residential and business addresses. But our preference is not to deliver to hospitals. This is because our products are handmade and can take up to 5 days to make. Meaning the new parents may have left before receiving their hamper. For more information on our delivery times please refer to our
shipping policy
.
We hope this has been useful and if you have any questions please feel free to contact me.
Note: This post was

originally

published by Luisa Figueroa on the 6th March 2018. It has

been updated

on 9th July 2021 to include updated details.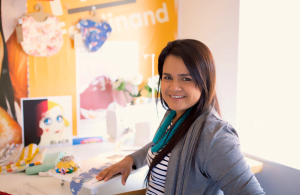 Written by Luisa Figueroa – Owner, designer and maker f the My Little Love Heart range of baby products. I am a mum to a beautiful daughter. I have been working within the fashion industry for over 15 years and specialising in baby accessories for the last 5. My love of fashion has enabled me to work and study around the world.