We have a range of Australiana floral baby gifts that are stylish and practical.
We have a number of Australiana flora prints that are perfect for an Australian themed baby hamper. These prints are;
Wattle – This is the perfect present to send overseas for a new baby. The wattle print is a bright yellow and stands out as a stylish and on-trend print. This is our latest and one of the most popular prints.
Floral Gumnuts – Many of our Australian-made baby boxes are made with this floral gumnuts print. This design has a light aqua background with beautiful floral gumnuts on it. Some of which have a beautiful pink flower bursting out. Making it the perfect present for a baby girl.
Botanical – Although the products aren't pictured above we do have some fabric left of the botanical print. This print has a light background with small white dots on it. It also has beautiful pink botanical flowers with green leaves and stems. If you would like a gift set made from this print please contact us.
Koala – Although the main focus of the koala sets is the koalas themselves. This koala print has many Eucalyptus leaves and branches. Making it a favourite for those who love everything Australian.
Kangaroo – Similar to the Koalas print. The kangaroos on this design aren't the main focus. The print for the kangaroo hampers also has Eucalyptus leaves.
Eucalyptus – On the subject of Eucalyptus, we have a small amount of fabric that we can use for baby gifts. This is one of our older prints so we only have a small amount of fabric left.
We hope these floral Australiana hampers are perfect for your requirements. If you have any questions or would like to build your own baby gift please contact us.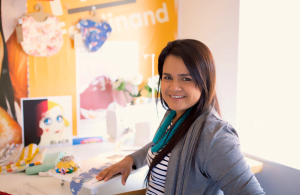 Luisa Figueroa wrote this article. She is the maker, designer and owner of the My Little Love Heart range of baby gifts and accessories.