Welcoming a grandchild to the world is an exciting time. And as a grandparent, you want to give a thoughtful, quality baby gift. This is why we offer a selection of gift sets. All of which have been handmade from our baby shop in Perth, Australia.
Whether you are buying a baby shower gift or a newborn present, we have a selection that any new parent would love to receive. And being handmade in Australia, you know the love and care that went into each stitch to create a unique and original piece. And what better way of expressing this love than by giving a handcrafted gift to your granddaughter or grandson.
The sets we offer are;
Granddaughter Gifts
With a selection of different prints and sizes, there is something for everyone. Your granddaughter will look adorable wearing her handmade bib while chewing on her teether. Below are some of the sets we have on offer. To see all of them visit our baby girl gifts page or visit our baby gift shop in East Perth.
Grandson Gifts
Our range of baby boys' gift sets is full of stylish prints which are ideal for your grandson. These include the leaf, clouds, dinosaurs and tiger prints. The tiger's design is perfect for 2022 as it's the year of the tiger.
Unisex Baby gifts for a grandchild
If you don't know what sex the baby is we have a variety of unisex gifts. With a range of solid colours and unisex patterns, your grandchild will look adorable.
Other Newborn Gifts from Grandparents
Besides these gift sets, we have compiled a list of items that would make a great present for your grandchild. These are;
Baby Journals and Diaries 
With a large range of baby diaries and journals, there is a style for everyone. Here your children will be able to write all the details about your grandchildren. You can add photos, details about the birth and much more. These make for a lovely keepsake that can be passed down from generation to generation.
Sensory Boards
 Give your grandchild the best start to life with a Montessori board. These busy boards are designed to improve your grandson or granddaughter's motor skills. They are small enough to be portable and fit in the base of a pram.
Suction Plates
These are a lifesaver and should be included in any baby essentials list. Baby suction plates are a great gift to give and will help your grandchild to learn how to feed by themselves.
Milestone Discs
You will love seeing your grandchildren growing up. And these wooden milestone discs will help celebrate their major achievements for the first twelve months.
Bath Toys
Bath time is an enjoyable part of raising a baby. And these Oli and Carol mould free bath toys are a natural gift that any grandparent would love to give. If you are involved in caring for your grandchildren these will come in handy when you bathe them. The best thing is they can also be used as an organic teether. We are proud to be a stockist of the oli and carol range in Australia.
We hope these gift ideas for grandparents have been helpful. If you have questions about any of these products please feel free to contact us.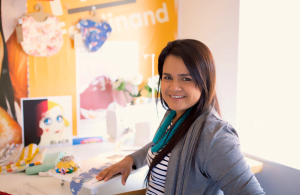 Luisa Figueroa – Designer Profile – Owner, designer, and maker of the My Little Love Heart range of baby products. I am a mum of one and have been working within the fashion industry for over 15 years and specialising in baby accessories for the last 5. My love of fashion has enabled me to work and study around the world.