We have a beautiful selection of corporate baby gifts that any new parents would love to receive.
If you have been tasked with buying a corporate baby hamper there are a few things you should consider. In this article, we talk about giving presents to employees, while we have a separate on giving baby presents to clients.
When buying the gift there are a few things to consider. Mainly, will the company or co-workers be paying for the gift? This will normally depend on how much you spend.
How much should you spend on a corporate baby hamper?
There are a few factors that will decide how much to spend on an employee's baby gift box. If the company is paying for it then you will most likely have a budget under $100. While if your colleagues contribute you could have a budget of under $200.
How much should I contribute to a coworker's gift in Australia?
When a coworker is having a baby you may be asked to contribute to their maternity gift or newborn present.
If you are asked to contribute you should only give the amount you are comfortable with. And if you don't want to give anything you are not obliged. Everyone's personal finances are different and some people can afford more than others. But if you do want to contribute to a co-worker's baby gift you can give anywhere between $5 and $20.
How do you ask a colleague to contribute to a baby gift?
If you are tasked with buying the gift first you have to ask your colleagues to contribute. The easiest way to do this is to send an email to people in the office asking for contributions. An example email would be;
"Dear Team, we are helping our colleague welcome the birth of their baby and will be buying a present on behalf of everyone at (our company). If you would like to contribute a small amount please let me know and I will send through payment instructions. Please note this is not compulsory and any contributions will be appreciated."
How do I make an office money collection for a baby gift?
Once you have your responses you can request everyone to provide cash or to transfer money. We recommend that you request cash and that collection be handled by two people. Once you have collected the money and brought the gift you can offer to send the receipt to those who contributed. We suggest being as transparent as possible when dealing with other employee's money.
What do you get a coworker for maternity leave or for a new baby?
Now you have your budget it's time to start shopping. Whether you are buying for a maternity leave present or for a new baby gift the hampers will be similar. There are a few things you should consider when buying a corporate baby present. These are
Practical – When selecting the gift make sure it is practical otherwise it will be put at the back of the cupboard and never be used.
Stylish – Similarly ensure the items are stylish and the new parents will love using them.
Eco-friendly – A corporate baby hamper should be made from sustainable materials and organic. Companies are becoming more aware of their environmental footprint so you shouldn't be sending a gift with products covered in plastic.
Age Appropriate – Any baby gift should have age-appropriate products. Ensure the gift sets are designed for babies. All the products should be able to be used within the first 6 months. Otherwise, they will be forgotten about.
Australian Made – We recommend buying an Australian-made baby hamper. The recipient will appreciate that the products have been locally sourced and made.
These are some of the things you look for when buying a corporate baby gift box. To learn more we have a detailed article on how to choose the best baby presents.
Best Corporate Baby Hampers
From our experience, the best corporate baby hampers are ones that have a variety of different high-quality products. The most popular hampers are the mum and baby sets that have products for both the baby and mum. These look amazing and full of practical and stylish products.
Also, businesses love to give hampers with Australian themes especially items that contain Australian Made products. This indicates to the employees that they have thought hard about the present and that they support other Australian businesses.
How do you congratulate a coworker who is expecting a baby?
The best way to congratulate a coworker who is expecting or having a new baby is with a baby hamper. And writing a thoughtful and loving message. One message could be;
Dear Jill, Jack, and Baby Jane,
We are so excited for the next stage of your journey. The happiness that a newborn will bring is unsurpassed. And we can't wait to meet the latest member of your family. With love from the team at the Company.
This is just one note, if you would like more ideas we have an article on baby shower messages that have some appropriate words you could include.
So to conclude, when buying a corporate baby hamper make sure they are practical and stylish and a good representation of your company.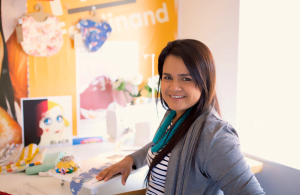 This article was written by Luisa Figueroa. She is the owner, designer and maker of the My Little Love Heart range of baby gift boxes.