Our selection of baby gifts under $250 are stylish, and practical and come beautifully gift-wrapped in that any recipient would love to receive.
These baby hampers under $250 are the crème of the crop. They are full of high-quality, stylish and practical products that come gift-wrapped and with a card.
Occasions to spend $250 on a baby gift
You may be wondering what occasions you would be spending a large amount on a baby hamper. Here are some examples;
Baby Shower – A group of friends or work colleagues who have been invited to the baby shower may decide to pool their money and buy a baby shower hamper. If a group of five friends contributed $50 each you would be able to buy a very nice baby gift for under $250. Also if you are the best friend or a well-off relative spending this type of money is perfectly reasonable.
Gift for Colleague – It is common for work colleagues to all chip in and get a company baby hamper. And to spend up to $250 would be very easy if 25 people chipped in $10 each. If you work for a smaller company you might want to look for baby hampers under $150.
Hamper for clients – One of your customers might be having a baby. In this case, you should send a client baby hamper to them. If they are a smaller client you could send them a baby gift under $100. While you could easily spend up to $250 on your best customers.
Newborn – If you are an extremely close friend of the new parents you may want to splurge a bit. Or you may be a family member who is buying for their niece or nephew. If this is the case these baby hampers under $250 are perfect for you.
What to look for in a quality baby hamper
When spending $250 on a baby hamper there are some things that you should look for. These are;
Quality – When spending this amount of money each piece of the hamper should be high quality.
Organic – Products that are made with organic materials are normally a little more expensive. So in this case you should be able to buy an organic hamper worth $250.
Presentation – If you are buying a $250 hamper you would want it to be beautifully presented. All our hampers come gift-wrapped, with a card and we can include a message.
Australian Made – Australian-made baby hampers are high quality and support local businesses. They keep the money in the local economy and normally come in beautiful Australiana themes.
Handmade – Ideally you will include some handmade baby gifts in your hamper. This will add some originality and uniqueness to the set.
We hope that you have liked our selection of baby hampers under $250. If you have any questions or would like us to build a special one for you please contact us.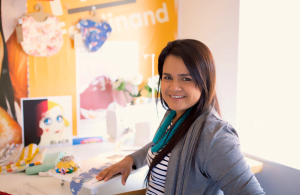 Luisa Figueroa wrote this article and she is the owner, designer and maker of the My Little Love Heart gift sets.