Have you prepared your newborn baby shopping list? As a parent myself, I have shared below my experience on what was helpful in those first few months of having a newborn baby.
We would like to preempt this by stressing that every parent and baby is different. Each has their individual needs and personalities. Below are some items we found helpful and hope you do too. For a thorough details list explore our newborn essentials list.
When purchasing any item it is recommended to read product tags and descriptions to ensure they meet the relevant Australian Standards and best practices. This SIDS guide for safe sleeping and this resource for children's car seats are additional must-reads.
Our baby shopping list includes;
Health
Baby Clothes
Feeding
Bath and Hygiene
Changing
Nursery Room
Sleeping
Baby Proofing
Going out and Travel
First-time mum essentials
Health
Thermometer- The baby thermometer is the first thing on our newborn shopping list and for good reason. It comes in handy when you need it most, to check if your child has a temperature.
First Aid Kit- Although you may already have one, now is a good time to replenish all the missing items. It's best to do this before the birth as there are many scrapes and bruises to come.
Antiseptic Wipes- These will become your best friend and will go everywhere with you. Generally, the standard supermarket variety will do.
Hand Cream Steriliser- One of the first things on the newborn checklist, this will not leave your side and be used on a daily basis. We ended up having little bottles of the sanitiser all over the house and in the car.
Nail Clippers- Probably not one of the first things to add to the newborn baby checklist but something that you will be using for a long time.
Phone Numbers- Although technically this shouldn't be on a shopping list, we found keeping our doctors and other emergency phone numbers in an easy to access place a good idea. One good place to keep them is in your pregnancy journal.
Baby Clothes
Onesies- One of the first things on our list are onesies. I suggest you have lots of these and my preference is the bonds wondersuit with the zip rather than the studs. The zip means the clothing and changes are so much easier.
Under Vests- The under vests are must have baby items to keep the newborn warm. They are constantly getting dirty and wet so would recommend buying a few of these.
Cardigans- Warmth is once again the reason to have a cardigan or two ready for when your baby arrives home.
Beanie- Not used a great deal however it is helpful to keep your baby warm especially in the winter months.
Mittens- Although some babies don't need mittens they are a good idea to cover their hands so the nails don't scratch their sensitive skin.
Socks- Purely for keeping bub warm, the socks are must have baby items especially during winter.
Baby Clothes Hangers- The more the merrier for the hangers. This is another item that will be used for years to come. Not the first thing you would purchase but they do come in handy.
Feeding
Bottles- Even if you are breastfeeding you should have a few extra bottles so you can express feed later. There is a large number to choose from including glass, plastic, and even disposable bottle.
Nipples- Make sure you read the indicator guide to select which nipple is right for you. It is also a better idea to buy the same brand bottle and nipple.
Bottle Steriliser- Although not essential, anything that helps in those first few months is very appreciated. This is a great resource to decide if the bottle steriliser is suitable for you.
Bottle Cleaning Brush- These should come with the bottle sterilisers you have purchased. However, if it doesn't or you don't have a steriliser you can buy a new one from the major supermarket chains.
Baby Formula- Even if you are breastfeeding there is no harm in having some formula handy. Here is a great resource on how to prepare formula for bottle feeding at home.
Feeding Pillow- The feeding pillow does make feeding time a little more comfortable for both baby and mum. We are a stockist of the Feeding Friend range and love that it is self-inflating. Making it practical, portable, and comfortable.
Bibs- As almost everything baby-related there is a huge amount to select from. We recommend reading our blog on how to choose which is the best bib for you and your baby and possibly buying one of our handmade baby bibs.
Burp Cloths- You will not need a huge amount unless your bub suffers from reflux. When choosing a burp cloth make sure they have a terry or bamboo backing as this helps with absorbing the vomits and spit-ups.
Breast Pump– The day we came home from the hospital I had excruciating pain in my breast. My daughter wasn't drinking as much as my body was producing so I sent my husband out to buy a pump. I did use this regularly to express milk so my husband could feed at night time or when I wasn't available.
High Chair- No need for the expensive high chair version as the Ikea four-legged high chair does the job perfectly.
Bath and Hygiene
Baby Bath- Depending on your budget there is a style for everyone. Look for a baby bath that has plenty of storage underneath for easy access to towels, nappies and all items you need at your fingertips.
Bath Toys – Bath time is fun and with some mold free bath toys it will make it even more enjoyable. The Oli and Carol range is our favourite as they are a bath toy and teether in one. They are also eco friendly and made from natural rubber.
Hooded Bath Towel- Even in the summer months a hooded towel will be used every day. You don't need to go overboard as just one or two towels should be enough.
Rubber Ducky Thermometer- My husband was paranoid about having the water too hot for bath time and always called me to check the water temperature. We would recommend adding the rubber duck thermometer to the baby checklist as it measures the temperature and keeps your baby occupied.
Face Washer / Wash Cloth- A soft washcloth is great for cleaning your baby's face and skin. Also perfect for feeding, nappy changes and any other time your baby makes a little mess.
Baby Soap- For the first few months we used water to bath our daughter. When she was a little older, around 6 months we started using the Johnson and Johnson baby bath soap.
Changing
Changing Table- When purchasing a changing table make sure the design has sides high enough that your baby won't roll off. Babies do roll off these so be alert and never leave them unattended.
Changing Mat- The bath changing mat is different from the normal mat you would put in your bag. Designed especially for use straight after a bath and waterproof.
Nappies- Whatever you decide, make sure you buy a lot and even have a small backup stash. You will go through so many and will always run out at the most inconvenient time.
Baby Wipes- One of the first things to buy and to pack in your bag. Perfect for cleaning your babies bottom and virtually everything else. Supermarket brand wipes will do just fine and come in small sizes ideal for your handbag.
Sudocrem- You can't have a newborn checklist without Sudocrem. This is a must for any newborn and will help with nappy rash.
Nursery Room
Baby Monitor- These are available in a large range from a budget monitor through to the deluxe unit which comes complete with a sensor and video camera. This is definitely a choice depending on budget and requirements.
Night Light- During nighttime feeds and also those late-night checks a small night light won't go astray. You will be able to check up on your newborn without falling over the endless toys you seem to accumulate.
Rocking Chair- Personality for us this was one of the most practical items we purchased. So much so that we have added it to our list of practical baby shower presents. From using it to breastfeeding at the start of rocking our daughter to sleep there wouldn't have been a day where we didn't use it.
Toys- Without going into great details there is a huge amount of toys to choose from. Ranging from the basic toys to the extravagant products available.
SLEEPING
Bassinet- If you buy a bassinet we recommend reading the Choice guide on how to choose a bassinet.
Bassinet Mattress and bedding- Make sure you also purchase the mattress and bedding to suit. The above choice guide gives a good indication of what you should look for in regards to safety standards.
Cot, mattress and bedding- With a large selection to choose from the purchase of a cot is a personal one depending on sleep arrangements. The starting blocks website has a great guide on choosing a cot.
Pacifiers and Dummies- With many choices of soothers available it is a difficult choice to make. If you are more inclined to choose a natural rubber dummy you can't go past the Natursutten natural rubber soother.
Swaddles- There are a number of swaddles to select from so a must-read resource is the do's and don'ts of swaddling before making your purchase.
Baby Sleeping Bag- Sleeping bags are designed for babies after they have grown out of swaddling. The ergo pouch is an Australian made product and their detailed product description allows you to make an informed choice.
Blanket- Blankets are nice to have however according to the American Academy of Pediatrics they should not be used before 12 months of age.
Baby Proofing
Electric Outlet Covers- As this is a relatively cheap item I would recommend buying some. These are designed to put into your electric outlets and prevent your baby or toddler from inserting items into the electric sockets.
Stair Gates- These are a must for houses with stairs and should be used at both the bottom and top of the staircase. We also had them around the television so that when they are learning to walk they won't pull it on top of themselves.
Draw Latches- Definitely not a necessity however if you are keen to keep a clean kitchen then give them a go.
Corner Guards for Low Tables- Definitely not a priority and more of a nice to have. We found it easier to put away low tables until our daughter was a bit older.
Going out and travel
Nappy Bag- This is more of a personal taste. Make sure they have plenty of space, lots of pockets, an adjustable padded shoulder strap and easy to carry.
Car Seat- Another priority for the list is a car seat. With a vast selection of car seats to choose from, there is a choice for every budget. We decided to buy one that would last us seven years. One recommendation is to have it installed by a professional as the first time putting them in can be difficult.
Sun Blinds- Especially in Australia these are must-haves. Used on the back windows to protect your baby from the hot summer sun.
Pram or Stroller- One of the bigger purchases from your list of things you need for a new baby will be the pram so make sure you do your research. If you will be lifting it into your car every day ensure that it is lightweight. Will it have enough storage space and is it mobile and small enough to go through shopping isles? Is it easy to open and close especially with one hand? The pram is an item that you should test drive to see if it fits your lifestyle.
Pram or Stroller Cover- Especially during summer this is an essential item to protect your baby from Australia's harsh sun. A lot of prams come with a sun cover so check before you buy one.
First-time mum essentials list
Breast Pads- I used the Rite Aid breast discs virtually the day my daughter was born. This combined with the nipple cream was helpful in reducing the pain from breastfeeding. Although now, if I was to have another baby I would choose reusable nursery pads.
Nipple Cream- The Lansinoh brand was my go-to cream to help cracked and sore nipples when breastfeeding. It can be a very painful experience so any relief is welcome. My nipples were cracked so much I ended up having a laser treatment which was extremely helpful.
Maternity Pads- Best to stock up on these prior to birth. Make sure you have maternity pads rather than sanitary pads.
Baby Books- Ideal to record your babies firsts or even your pregnancy, these are a wonderful keepsake and will be a great gift to hand down to your family.
Food- Although it isn't something you need to add to your shopping list, I suggest you pre-cook as many meals as possible. You can reheat them and eat in no time. It's amazing how difficult it can be to find the time to eat in the first days, weeks, and months after giving birth.
Help- Do not be afraid to ask for help. Whether it's from friends, family, neighbours, other parents, or online resources there are always people willing and able to assist.
We hope this list was helpful. We wish you the best of luck in preparing for your baby and hope the above information has been helpful. If you feel that there is something missing we would love to hear your thoughts.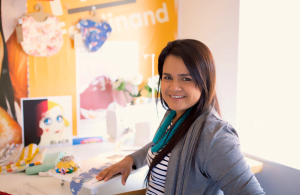 Written by Luisa Figueroa – Owner, designer and maker of the My Little Love Heart range of baby products. I am a mum to a beautiful daughter and have been working within the fashion industry for over 15 years and specialising in baby accessories for the last 5. My love of fashion has enabled me to work and study around the world.