If you have read the ultimate guide to baby essentials article you will know about the vast amount of baby items. However, you may not have the budget, space, or desire to purchase all these items.
So, we have compiled a list specifically for the babies' first 3 months of their life. You won't find things like baby monitors, nursing chairs, bath toys, or pram accessories here. However, you will find a useful list of items for minimalist parents.
Our list of minimalist newborn essentials list for a newborn through to 3 months include;
Car Seat – This is an essential item for anyone who has a newborn baby. In fact, in Australia, from my own experience, the hospital will not let you leave unless you have one fitted. Buying a car seat can be a confusing purchase with so many choices to choose from. We recommend reading this buyer guide on how to choose a car seat.
Nappies – Whether you use disposable or modern cloth nappies (MCN) any minimalist newborn list will include nappies. If you are living the minimalist lifestyle you can't go past cloth or modern cloth nappies. The quality of these has improved immensely over the last few years. There is also a wider selection of styles and brands to choose from.
Nappy rash cream – This is an essential item which you should take everywhere with you, even pack it in your nappy bag. The nappy rash cream is a must-have for using while you change your baby and you will be using it for several years.
Wipes – Newborn babies are messy and that's why we have included them on our must-have list. Not only can they be used for cleaning your babies hand and mouth but also clean dirt surfaces and toys they are playing with.
Onesies – You can't have your baby naked all the time so definitely buy some onesies. The bonds wondersuit is by the best. Make sure you buy one with the mitten and feet covers in the zip-up style. It can be difficult changing your baby at the best of times so the zip helps out considerably.
Swaddle – This is a must-have item for any new parents. A swaddle is used to wrap your baby up for bedtime. We love the Burrow Baby swaddles and to learn how to swaddle correctly read this tutorial.
Bassinet – For the first three months of the baby's life they need a safe place to sleep. The bassinet is designed for this. Bassinets come in various shapes, sizes and prices so choose one which suits your lifestyle. Also, when putting your baby to bed make sure that there are no toys, pillows, or blankets in the bassinet.
Bibs – Babies drool and spit up a lot, especially during feeding. Therefore we recommend having a few bibs on hand at all times. They are specifically designed to keep your baby clean, dry, and comfortable. We recommend our range of baby bibs for newborns. They have the fastener on the side of the bib for ease of securing and removal.
Pram or Baby Carrier – Having a way of transporting your baby is essential, even for those who live a minimalist lifestyle. Whether you choose a pram or a baby carrier, or both will depend on your requirements. If you are happy carrying the baby around all the time the baby carrier could be for you. However, if you expect to do lots of walking or getting out and about a pram might be more suitable. Choosing a pram is a huge decision and can be confusing. To help out read our suggestions on how to choose the correct pram for you.
Burp Cloth – Generally you wouldn't think of this as a must-have item on a minimalist newborn list. However, as they are so versatile we couldn't leave it off. Not only suitable for burping your baby but they can be used as a nursing cover, changing mat, or for cleaning up spills.
Thermometer – You may already have a thermometer around the house so no need to buy a new one. However, these are one of the first items I would include on a minimalist baby essentials list. We love the Broun baby thermometer due to its accuracy. If you think your newborn is unwell this can be a quick test to see if they have a fever. If in any doubt or any sign that your baby is unwell or maybe sick visit a doctor immediately.
Steriliser – If you are formula feeding your baby you will need to sterilise the bottles. There is a range of different sterilisers available however keeping the minimalist in mind look at the cold water sterliser. You can sterilise the bottles by submerging them in cold water along with sterilising liquid or tables for 30 minutes.
Feeding bottles – This is only applicable if you plan to bottle feed. Feeding bottles come in a range of sizes so for newborns make sure you buy the small size. We preferred the Avant brand however this was just a personal choice. Whichever bottle you choose make sure you buy the same brand nipples.
Nipple – With many different size nipples available make sure you choose the correct one. It should be the slow flow, stage 1 nipple of the same brand of bottle. Stage 1 nipples are designed for babies first 3 months.
We hope that this minimalist newborn list has been helpful. For a more comprehensive article explore our baby shopping list. This gives you a quick overview of all the items you may want.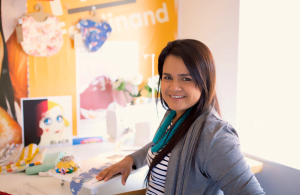 Luisa Figueroa – Designer Profile – Owner, designer, and maker of the My Little Love Heart range of baby products. I am a mum of one daughter and have been working within the fashion industry for over 15 years and specialising in baby accessories for the last 5. My love of fashion has enabled me to work and study around the world.